Interior Minister Hans-Peter Friedrich began with the good news from the annual report on German unity.
"Unemployment in eastern Germany has, fortunately, clearly fallen, and in the summer of 2012 reached its lowest point since German reunification," he said.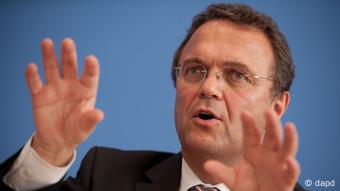 Difference remain in the eastern and western German economies, Friedrich said
There were some 869,000 unemployed people in the states that at one time made up East Germany, putting the unemployment rate at 10.3 percent. That, however, is still higher than the 6 percent unemployment rate in the rest of Germany.
More than two decades after reunification, there are few differences between the former eastern and western states in many areas, such as education and health, but eastern Germany continues to lag behind the West when it comes to the economy, Friedrich said when presenting the report.
Overshadowed east
Eastern Germanyexperienced a slight decline in economic performance in 2011. Compared to their countrymen in the West, the gross domestic product per capita last year in eastern Germany fell from 73 percent in 2010 to 71 percent.
"The gap will not get bigger," Friedrich promised, adding that the numbers represented a "snapshot" of the eastern German economy and did not point toward a general economic decline.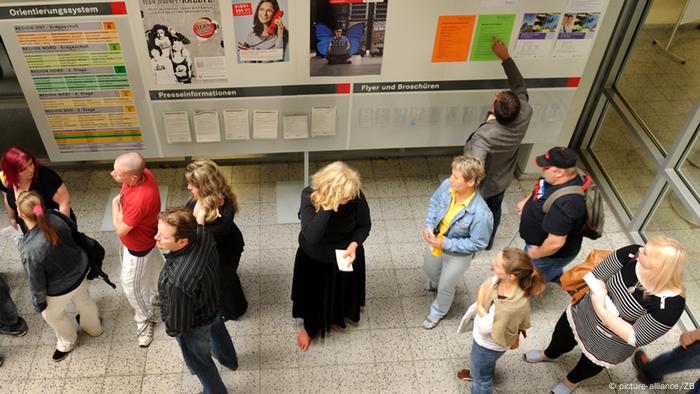 Unemployment lines are longer in eastern Germany
But structural difficulties remain. In terms of productivity, the report showed that the eastern German economy is 79 percent as productive as that of the West. The report went on to say that companies in the east are smaller than in the West and that larger companies based in the West maintain branches in the East while keeping operations and research and development in the West.
Despite the large-scale decline in the eastern German solar industry, the government pointed out that 40 percent of wind energy is created in eastern Germany and said it will continue to back the renewable energy industry in the East.
Friedrich said the government sees boosting innovation and the ability to produce products for the export market in eastern Germany as among its priorities.
Demographics pose significant problem
Demographics were another key topic in the annual report and one in which the West could take a lesson from the East, Friedrich said.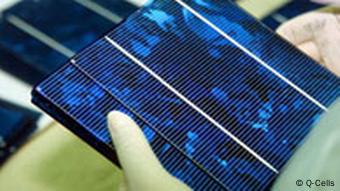 A cloud has come over the eastern German solar industry
"Demographic changes occurred earlier and wider in the East than in any other European region," he said.
Many young people left eastern Germany shortly after reunification, in 1990, for jobs and education opportunities in western Germany and have not returned to the region of their birth.
"According to calculations by state and federal statistics offices, the number of 15 to 25-year-olds in eastern Germany in 2015 will be nearly 40 percent less than in 2008," Friedrich said, adding that demographic changes were a key reason he wanted European Union development funds to continue flowing to eastern Germany after 2013.
The German government also developed a program, called "All ages count," that is aimed at giving people opportunities to develop their skills and contribute to the economy in a way that fits their living situation.
Population decline to continue
Despite the higher unemployment rate, experts predicted that a lack of skilled workers in a number of sectors would continue to afflict eastern German companies. A program to train young people, with a special emphasis on women, as well as older workers aims to attract people to professions in demand by companies.
An aging population is one factor in eastern Germany's relative economic decline
The report also called the shrinking and graying population a "large challenge" for rural areas that need to provide public services to all people.
Unlike in previous years, the German Unity report was published exclusively by the Federal Interior Ministry rather than the various state ministries focused on economic power and demographic changes. Issues including infrastructure, environmental pollution and crime were not part of this year's report.