Wages in Germany plummeted by 1.2 percent following the entry of Poland, the Czech Republic and the Baltic States into the European Union last year. Experts believe that this trend will continue this year unless the German government takes decisive steps to curb the influx of cheap labor from Eastern Europe.
The leader of Germany's opposition ultra-conservative CSU party Edmund Stoiber has now said most of these workers are illegal immigrants who are violating EU rules governing self-employment and freedom to set up shop in the 25-nation bloc.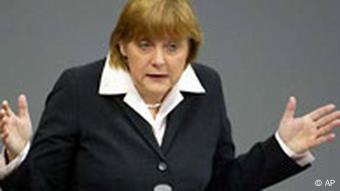 Angela Merkel
His call for the introduction of nationwide minimum wages was echoed by Angela Merkel (photo), leader of Germany's conservative opposition.
"We cannot compete for the lowest wages with countries such as Estonia, Latvia or Poland," Merkel said. "That is why we will seek legislation that is both in line with EU rules and effective in curbing wage dumping in Germany."
Alarm over wage dumping
Under EU law, workers sent to a different country for a short-term contract must receive the minimum social benefits and wages of the state where they are carrying out the project.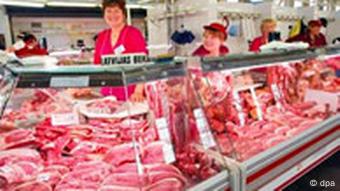 This doesn't apply, however, to self-employed workers and foreign subcontractors. So in Germany tens of thousands of workers in the meat industry have lost their jobs in recent months with their work now being done by companies from Poland and Hungary who essentially lend their foreign workers to companies here. The wages they receive are just between 3 and 5 euros an hour.
Leading German trade union leaders such as Ursula Engelen-Kefer speak of organized slave trade and demand minimum wages for most industrial sectors. "We have to make sure that wage dumping and the loss of hard-won social standards must be prevented," she said. "We can only achieve that by introducing minimum wages in sectors beyond the German building industry where they already exist and are proving to be useful."
Government against minimum wages
Quite naturally German employers are against an extension of minimum wages. They say this would be counterproductive as job opportunities for unskilled German workers would be lost. In addition they claim companies would be burdened with the costs of greater bureaucracy.
Strangely enough, Germany's Social Democrat-led government is supporting such views. Labor and economics minister Wolfgang Clement thinks the government should not interfere in well-balanced labor relations in such a way.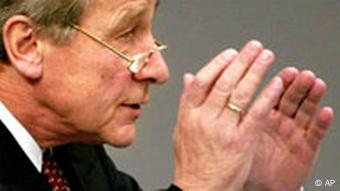 Wolfgang Clement
"If minimum wages were to be introduced in all sectors there is the high risk that wages would automatically come down to these levels," Clement (photo) said. "So I can only warn all union and labor leaders against pushing for minimum wages."
But pressure is mounting on the government to do something about the risk of wages going into free fall in Germany. Just last month, Chancellor Gerhard Schröder had to intervene in EU plans to liberalize services which would have thrown the doors further open for cheap labor from the East.
Trade union leaders are convinced that minimum wages will remain on the agenda as fears of eastern laborers working for next to nothing in Germany have long become reality.