At least 31 people were killed and 72 injured after an explosion ripped through the San Pablito fireworks market on the northern outskirts of Mexico City on Tuesday afternoon. Officials said the "entire market" of 300 stalls had been destroyed.
As forensic investigators sifted through the debris on Wednesday, 53 people were still missing. Nearby properties and vehicles were also damaged.
Bodies "thrown all over the place"
"Everything was destroyed. It was very ugly and many bodies were thrown all over the place, including a lot of children. It's the worst thing I've ever seen in my life," said Angelica Avila, whose brother was one of the fireworks salesmen caught up in the blast.
According to reports in the Mexican media, the market would have been packed with more than 300 tons of fireworks ahead of the Christmas holidays, when pyrotechnics often form part of the celebrations in Mexico.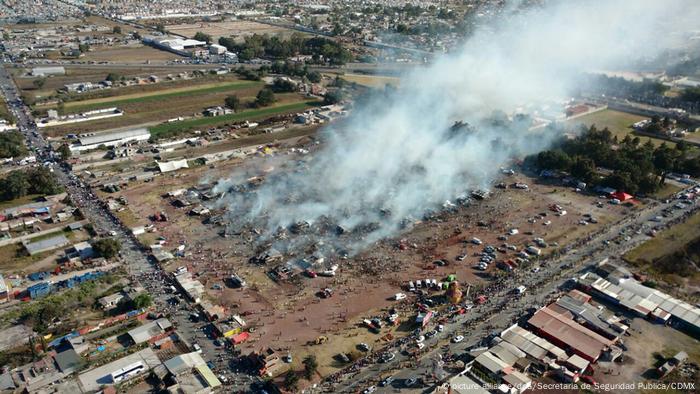 Isidro Sanchez, head of the local emergency services in Tultepec, about 32 kilometers (20 miles) north of the capital, said a lack of sufficient security measures had likely caused the blast. This is the third time in just over a decade that Mexico's most popular fireworks market has been hit by mass explosions.
Rescue efforts hampered by ongoing blasts
First responders were held back from initial rescue efforts because of ongoing explosions. The Mexican Red Cross sent 10 ambulances with 50 paramedics to the scene, and the military was deployed to help transport the injured to hospital.
Eruviel Avila Villegas, the Governor of the State of Mexico, said that most of the bodies were "impossible" to identify.
He also vowed to find and punish those responsible and to provide financial support to those who had lost their livelihoods as a result of the explosion.
According to state official Jose Manzur, a safety inspection at the market last month had uncovered no irregularities.
President Enrique Pena Nieto, who is the former governor of the State of Mexico, sent his condolences to the families of the dead via Twitter, writing: "My condolences to the families of those who lost their lives in this accident and my wishes for a quick recovery for the injured."
The office of the Attorney General has opened an investigation into the incident.
jm/cmk (Reuters, AP, EFE)