Giulio Andreotti, perhaps the most influential figures in Italian post-war politics, died aged 94 on Monday at his home in Rome.
Andreotti's death was announced by the current right-wing mayor of Rome, Gianni Alemanno. Despite his towering presence in post-war Italian politics, it was also decreed that there would be no state funeral. The intensely private man apparently favored a private funeral service in Rome on Tuesday in the church in which he took mass every morning.
Seven-time prime minister
Andreotti served seven times as Italy's prime minister, and was also minister of the interior, defense and foreign minister at various points in his long career. A symbol of the Christian Democrats who dominated Italian politics and the government from the post-war years until the 1990s, he was made a life senator in 1991, and continued to wield his power over society, using his votes in the Senate (the Italian upper house) to both bring down and bolster ever-changing coalition governments, which are a fixture of Italy's government.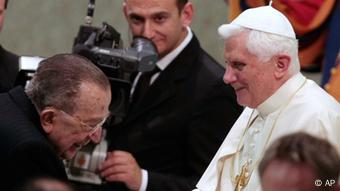 Andreotti was a devout Catholic and went to mass daily
Andreotti was a devout Catholic and a friend of popes and the Catholic Church; his views on issues like gay marriage and abortion meant that he would sometimes vote against the government of the day, or abstain and cause political crisis, if he disagreed with a proposal before the house.
'Il Divo'
The politician was nicknamed "Il Divo", after the epithet for Julius Caesar, "Divius Julius" (Latin for Divine Julius), and he sometimes seemed to stand under divine protection. Despite a number of court cases against him and accusations of mafia associations, he managed to sail through turmoil almost unscathed, overturning judgments on appeal and continuing his political career.
The "Il Divo" nickname was used as the title of a 2008 film made about him. The film, directed by Paolo Sorrentino, went on to pick up the Jury Prize (Prix du Jury) in Cannes that same year and was a critical success, using German and European techno music to look back at some of the most divisive and turbulent events in Italy's recent past, over which Andreotti presided.
Those periods included the "Anni di Piombo" (the Lead Years), so called because of the amounts of bullets and bombs that imposed unofficial curfews in cities like Rome and Bologna, as a virtual civil war was waged in the country between the extreme left and right. During the Anni di Piombo, the far right, the mafia, the secret services and the far left were held responsible for bombs, killings and kidnappings of prominent figures from political and civil society. Unrest continued into the 1990s with the mafia killings of judges like Giovane Falcone and Paolo Borsellino.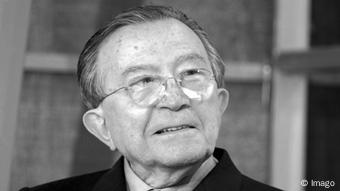 The politician weathered all manner of scandals during his long career
Mafia connections?
Andreotti has also earned nicknames with less than divine associations, including "Beelzebub" and the "Prince of Darkness." Partly because of allegations that he was linked to the Mafia and used its power to climb the political ladder during his career, and partly because of his reputation for scheming. Many saw him as a modern day answer to Machiavelli in Italian politics, and his close group of followers were nicknamed "Il Corrente" - the current - as they had the reputation for pushing through and implementing their leader's will throughout both houses of parliament, and Italian society, often using the media to start campaigns against political opponents, and holding court to the powerful both inside and outside of the political arena.
Although the allegations of Mafia connection were never ultimately upheld by courts of appeal, in the final big trial of his career in the 90s, the judge, in his concluding statement, noted that Andreotti had been heavily linked to the mafia in a period no longer within the statute of limitations. During that time, some suspect the former prime minister may have been complicit in or have ordered the killings of civil society figures, political allies and opponents through his mafia connections, although such accusations were never proven.
Andreotti was also embroiled in several questionable financial affairs and corruption during his early years in power, and in 1979, implicated in having ordered the death of journalist Mino Pecorelli, who investigated Andreotti's links to the mafia. He was investigated for this in the 1990s and went under trial which lasted three years, and was eventually acquitted of any involvement.
The Aldo Moro Affair
Andreotti was born in Rome in 1919 and studied law, becoming a leader in a Catholic student movement allowed by Mussolini's regime ruling Italy at the time. A fellow member in the Catholic student movement was Aldo Moro, a politician who was famously kidnapped by the extreme left "Le Brigate Rosse" (The Red Brigades) in 1978. At the time, Andreotti chaired the cabinet and was heavily criticized by Moro's family and many left-wingers who felt that his position of refusing to negotiate with the Red Brigades led to Moro's death. The kidnapping and death gripped Italy at the time. Ever a place for conspiracy theories, many feel that the state, secret services, the mafia, or far-right agitators may also have played a part in Moro's death.
Famously politically adroit, Andreotti wrote for the Fascist magazine during the war, but it seems he was also a member of the clandestine anti-fascist newspaper "Il Popolo." Andreotti resigned as Prime Minister in 1992, just a year before a corruption scandal ripped apart the old guard of Italian politics. Untainted at first, he quickly moved on to the Italian Senate, where he had already been made senator for life in 1991. Once there, he tried to obtain presidency of the Senate and worked hard to gain the Italian national presidency, too, but never quite made it.
Andreotti's poor health did not stop him from instrumental roles
Paying their respects
On hearing of his death, all of the big names in current politics rushed to pay their respects. One of the first was the leader of the centrist UDC party, and another staunch Catholic, Pier Ferdinando Casini. He was quoted in "Il Corriere della Sera" newspaper as saying "Giulio Andreotti was Christian democracy [personified]," adding, "Andreotti was politics, he brought together good and evil in an extraordinary personality. He was an international statesman, known all over the world, a true catholic, and a man who believed in the institutions of state."
The Italian President, Giorgio Napolitano, also sent a long message of condolence to Andreotti's family, saying "with his passing, a big actor on the national stage, with over seventy years experience is no more." Silvio Berlusconi used the politician's death to state that the left had fought an "undignified" crusade against Andreotti and "sought to demonize him," but that Andreotti had "overcome all these attacks with dignity and come out of it all victorious."
Although Andreotti had largely retired from public life due to health problems in recent years, he remained a controversial figure until the end. His image was that of a largely opaque and tortured man. For such a public figure, he fought hard for his privacy, but remained instantly recognizable in Italy with his large, stuck-out ears and hunched back.
He was famous for taking nighttime strolls through Rome, followed by his official car, policemen and his security personnel. Andreotti was seen walking out of the screening of "Il Divo," a film insinuating he was a power-hungry man who pulled the strings of all aspects of a violent period of Italian history. Andreotti said at the time he hoped he would be "judged by his record." Now that he has died, it remains to be seen whether his memory will be tainted by the allegations that the judges could never make stick to him in court.