The submarine's atomic reactor remained undamaged and radiations levels aboard the vessel were normal, the naval spokesman said.
"While carrying out sea trials of one of the nuclear-powered submarines in the Pacific Fleet, the firefighting system went off unsanctioned, killing over 20 people." Captain Igor Dygalo told Interfax news agency. "Among the victims were ship-building workers and servicemen."
Dygalo did not identify the submarine involved and did not explain how the accidental activation of the ship's fire extinguishing system resulted in the casualties.
Russian news agencies, however, reported the victims died as a result of inhaling freon gas released by the ship's fire safety system.
President Dmitry Medvedev was being kept updated on the situation, Russian news agencies reported Sunday. Medvedev ordered the defense ministry to investigate the cause of the accident and to provide "all possible aid and support to the victims' families," Dygalo said.
Sailors, citizens among victims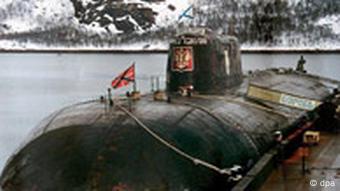 Russia's navy has suffered from a string of accidents since 2000
The Russian sub was ordered to dock at a port on Russia's east coast after the accident hit during sea exercises, Dygalo said. Dygalo did not specify the name or class of the vessel and gave no detail on its location at the time of the accident.
There were 208 people on board during the sea trials, but only 81 were servicemen while the rest were specialists from a ship-building company.
The injured were evacuated from the stricken submarine aboard an accompanying ship and were taken to a hospital on shore where they were being treated, the ITAR-TASS and RIA Novosti news agencies quoted officials as saying.
A high-ranking naval official was quoted by RIA-Novosti as saying that the accident struck the bow of the vessel.
The Russian Navy has seen a string of disasters since nuclear submarine Kursk sank in 2000 from an onboard torpedo explosion that killed all 118 crew members. The Kremlin was heavily criticized for not responding effectively to save lives in the tragedy.
Nine Russian sailors died in the sinking of a submarine in the Barents Sea in 2003 as the vessel was being brought in to be retired.

In 2005, seven sailors rescued by a British using hi-tech mini-submarines to ferry out the crew of a small Russian sub who had spent days caught meters deep in fishing nets.