Coastal communities around Vero Beach, midway between West Palm Beach and Cape Canaveral, were pounded by winds of up to 70 miles (113 kilometers) per hour. Hurricane Matthew is expected to grow stronger in the coming hours as it charges northwards towards Jacksonville.
Forecasters expect Matthew to be the most destructive strorm to hit the US in more than a decade.
"This storm's a monster," Florida Governor Rick Scott warned. "The storm has already killed people. We should expect the same impact in Florida."
Forecasters predict that it will go on to hit the coasts of Georgia and South Carolina by the weekend.
More than 12 million people are under hurricane watch and warning. Around two million Florida residents have been warned to flee inland, with around 1.5 million more warned along the southeastern coast, through Georgia up to South Carolina.
US President Barack Obama has declared a state of emergency in Florida and South Carolina, a move that authorizes federal agencies to coordinate disaster relief efforts. Although the storm has weakened slightly to a Category 3 hurricane, its affects are likely to be devastating in terms of loss of lives and damages.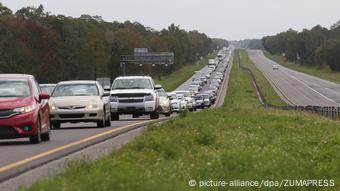 Roads and highways were jammed as residents fled
Matthew sustained winds of more than 195 kilometers per hour as it pounded the northwest of the Bahamas en route to Florida's Atlantic coast, according to the US National Hurricane Center.
Forecasters warn that the major threat to the Southeast will be the massive surge of seawater, expeted to reach up to 11 feet (3.35 meters) that could wash out coastal communities along the 500-mile stretch from South Florida to Charleston, South Carolina.
"What we know is that most of the lives lost in hurricanes is due to storm surge," Ed Rappaport, deputy director of the U.S. National Weather Service, told CNN. The storm could be the most destructive to strike northeast Florida in 118 years, he said.
Matthew's route
The 4.4 million residents in the Miami and Fort Lauderdale areas were spared from Matthew's most devastating effects, as it strayed around 100 miles off the coast of South Florida while charging northwards from the Caribbean.
After hitting South Carolina, Matthew is expected to veer out into the Atlantic. However, it may the loop back towards Florida as a tropical storm by the middle of next week.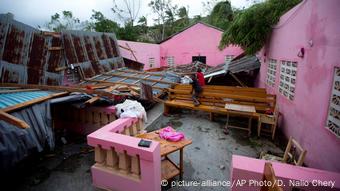 Around 80% of homes were levelled in the Haitian city of Jeremie
Matthew has left a path of destruction in its wake. At least 339 people were killed and thousands have been displaced in Haiti after it caused caused catastrophic damage and forced rivers to overflow. More than 29,000 homes were destroyed in the Sud department, while the southern city of Jeremie suffered "complete destruction," with 80 percent of the buildings leveled, according to relief agencies.
dm/kl (dpa, Reuters, AP, AFP)