Three days after Chinese automotive manufacturer Geely confirmed it had secured a near-10-percent stake in Daimler, works council members at the Stuttgart-based German carmaker said they were interested in finding out about Geely's long-term strategy.
They said they would look into what impact the Chinese shareholder's investment could potentially have on Daimler's production facilities and jobs.
"We expect [Geely founder and owner] Li Shufu to display a long-term interest in our company, and the will to advance the firm together with our employees," they said in a statement. Media reports said Li Shufu was keen on forging an alliance for autonomous driving and e-mobility, but was also said to have a particular interest in Daimler's battery technology.
Daimler works council chief Michael Brecht had earlier pointed to Geely's investment in Volvo, saying the Swedes had not made any negative experiences with their new Chinese owner.
Wary of the Dragon
Nonetheless, there is a wariness within Germany around the deal, as there has been increasingly over Chinese investment in Europe generally.
German Minister for Economics and Energy Brigitte Zypries (SPD) said on Monday that "an especially watchful eye" needed to be kept on the Geely investment in Daimler.
Saying the deal required further "explanation", Zypries told the German business daily Handelsblatt that Germany's economic openness must "not be used as a gateway for other countries' industrial-political interests."
BaFin, the financial regulator in Germany, said on Monday that it was not yet in a position to comment on the Geely investment in Daimler although the German government has commented, with spokesperson Ulrike Demmer saying that the deal is "an entrepreneurial decision."
Making the most of it
Christian Stadler, professor of strategic management at Warwick Business School, insisted the Chinese investment was "not without merits for Daimler."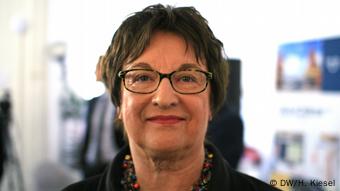 SPD politician Brigitte Zypries says the deal will be scrutinized closely.
"Geely seems to be a reliable investor; it's in for the long term, rather than being a buy-and-sell investor only interested in short-term profit," Stadler said. "That is useful, as all car manufacturers are facing the challenge of finding the huge investment needed for changing trends in the rise of electric vehicles and self-driving cars."
Germany's Social Democrat economic affairs spokesman, Bernd Westphal, sees no problem with Geely's stake in Daimler either.
"We should not send out a signal indicating that we're putting off potential investors," he told Reuters on Monday. "Everyone is welcome who is willing to stick to the rules."
Westphal added, though, that the most recent large-scale Chinese investment in a European company should ratchet up the pressure on Beijing to finally provide a level playing field for foreign investors in China.
On that note, Daimler, in the middle of all the excitement around Geely, has also announced a major investment with its other big Chinese partner, the BAIC Group, a state-owned company which owns several automobile manufacturers.
Over the weekend, Daimler announced that together with BAIC, it is investing around $1.9 billion (€1.54 billion) in a new Chinese production plant for hybrid and electric Mercedes-Benz brand vehicles.
Daimler has been working with BAIC since 2003 and since 2013, owns 12 percent of the BAIC Motor division.
hg/aos (Reuters, dpa)
Each evening at 1830 UTC, DW's editors send out a selection of the day's hard news and quality feature journalism. You can sign up to receive it directly here.