Senior executives from China's largest privately-owned automaker Geely are to meet their Daimler counterparts this week, after announcing on Friday an almost 10 percent stake in the German auto giant, according to sources close to the company.
Two sources familiar with the deal told the Reuters news agency that Geely also hopes to meet top German government officials in Berlin on Tuesday about the investment in the maker of Mercedes-Benz and a number of other car, bus, truck and motorcycle brands.
The two companies had no immediate comment on the plans. Germany's economy ministry declined to comment on any possible meeting, according to Reuters.
Largest shareholder
The €7.2 billion euro ($8.9 billion) purchase by Li Shufu, Geely's founder and main owner, makes it Daimler's biggest shareholder and leapfrogs a nearly 7 percent stake in the Stuttgart-based group held by Kuwait, and Renault-Nissan's 3.1 percent holding.
Geely chief Li Shufu said on Saturday that he was "particularly pleased to accompany Daimler on its way to becoming the world's leading electro-mobility provider."
Read more: Carmakers launch pan-European e-car charging network
The firm said there were no plans "for the time being" to raise the stake further.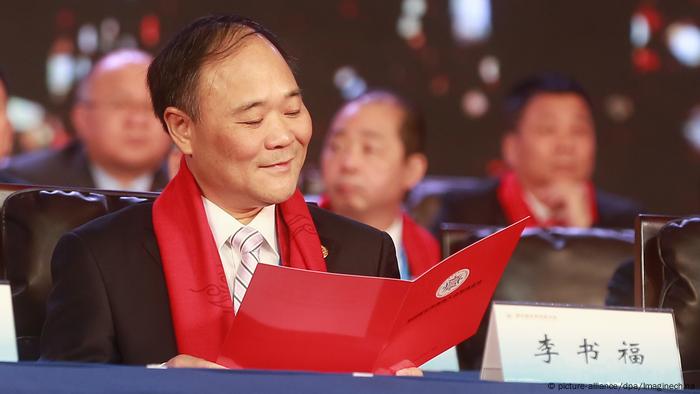 Geely chairman and owner Li Shufu wants to build an alliance to fight off competition from new automakers Telsa, Google and Uber
Li said the Chinese carmaker would seek to forge an alliance with Daimler, which is developing electric and self-driving vehicles, in response to a considerable challenge from the likes of Tesla, Google and Uber, who are all producing or testing new technologies.
Geely, which owns Sweden's Volvo Cars, continues to expand its portfolio of brands that includes a 49.9 percent stake in Malaysia's Proton and a 51 percent stake in Britain's Lotus, which makes London's world-famous black cabs.
In December, it advanced further onto Daimler's turf, investing in AB Volvo, the world's number two truck manufacturer after the German firm.
China growth vital
Daimler reported record profits of €10.9 billion last year, after Mercedes overtook homegrown rival BMW to become the world's largest luxury car maker by unit sales, helped in part by a powerful 26 percent sales growth in China to 587,868 units.
Read more: New Chinese SUV to attack German carmakers
Geely's stake is the latest in a string of acquisitions by wealthy Chinese firms and individuals, which have raised eyebrows in Berlin, Paris and Brussels.
German state secretary at the economy ministry, Matthias Machnig, said EU trade ministers meeting informally next week in Sofia would discuss how better to protect strategically important European companies from unwanted investors. He was not commenting specifically about Daimler.
mm/jm (AP, dpa, Reuters)