Judges in Munich found Ukrainian-born John Demjanjuk guilty of assisting in the murders of thousands of Jews during World War II, but ordered his release from incarceration based on his advanced age.
Demjanjuk was given a five-year prison sentence after what was believed to be one of the last trials of its kind; however, Judge Ralf Alt told the court soon after that the 91-year-old was to be freed because he was unable to travel due to his age, and because the verdict against him was not final.
The court also took into consideration the two years he spent in prison ahead of the lengthy trial, and added that he no longer posed a risk to society.
'No reaction'
Demjanjuk rejected the opportunity to make a final statement in the state court after judges had denied requests by the defense to seek more evidence. He sat in a wheelchair wearing dark glasses as the verdict was announced to him through a translator. He showed no reaction. His defense team had said earlier that it would appeal any guilty verdict.
Prosecutors had called for Demjanjuk to serve six years for his role in the killings of 27,900 Jews at the Sobibor death camp in Nazi-occupied Poland in 1943. They said this would take into account the time that he has already served in jail in the United States, Israel and Germany.
The prosecution said the defendant had participated willingly in transporting death camp victims to the gas chambers.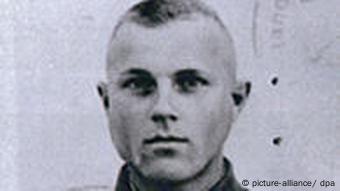 Much of the case focused on the authenticity of a Nazi identity card
Demjanjuk's attorney, Ulrich Busch, on Wednesday said there was no evidence to show that his client had ever worked as one of the SS helpers known as Trawniki guards, recruited from among Soviet prisoners. A member of the Red Army, Demjanjuk became a German prisoner of war in 1942.
At the end of four days of summing up by the defense, Busch added that many Soviet prisoners who had worked for the Nazis had done so under pain of death, rather than willingly.
A large part of the case hinged on the authenticity of an identity card purportedly issued by the SS, which showed that Demjanjuk served as a death camp guard.
New life in the States
After the war, Demjanjuk emigrated to the United States where he began a new life as a car mechanic. However, he faced trial before an Israeli court in the 1980s on charges of serving as a guard at the Treblinka death camp - where he was alleged to have been known as Ivan the Terrible.
Although he was found guilty and sentenced to death, the verdict was overturned in 1993 by Israel's supreme court after fresh evidence that appeared to exonerate him.
Demjanjuk was extradited to Germany in May 2009 and was stripped of his US citizenship over irregularities in his immigration application. His 18-month-long trial was delayed a number of times due to Demjanjuk's complaints of ill-health.
Author: Darren Mara, Richard Connor (AFP, dpa, Reuters)
Editor: Nancy Isenson