All updates in Universal Coordinated Time (UTC):
12:00 As citizens around the globe celebrated, their leaders focused on the tasks ahead in 2018.
11:00 Tahiti, the Cook Islands and the US state of Hawaii were some of the last places to join the global New Year's celebrations.
08:00 The West Coast of the United States rang in the New Year in cities like Los Angeles, San Francisco and Las Vegas. Local Las Vegas TV journalist Nathan O'Neal shared a video of the fireworks over the infamous Las Vegas strip on Twitter.
Following October's mass shooting in Las Vegas where 58 people died, police were also deployed to hotels and restaurants for the first time.
Some in California had even more reason to celebrate on Monday as so-called recreational pot use became legal. Adults aged 21 and older are now allowed to use marijuana recreationally and grow up to six plants at home.
06:00 The US city of Chicago and other areas in the Midwest joined in on the celebrations despite dangerously low temperatures. The US weather service said temperatures in Omaha, Nebraska dipped to -15 degrees Fahrenheit (-26 degrees Celsius) before midnight, breaking a record that was in place since 1884.
Celebrations took place in Mexico City and across the majority of the country, as well as in Honduras, Costa Rica, El Salvador and Guatemala.
05:00 People across the eastern seaboard of the United States and Canada are braving the cold weather to greet the New Year. In New York, over 1 million people gathered in Times Square to watch the famous "ball drop." Temperatures dropped to 10 degrees Fahrenheit (-12 degrees Celsius).
Tarana Burke, an activist who started the "#MeToo" campaign ten years ago to raise awareness about sexual violence pressed the button to start the ceremonial ball drop.
The Canadian cities of Montreal and Toronto also rang in the New year along with less chilly areas including the Bahamas and Jamaica.
03:00 Central Brazil, Argentina, Paraguay, Uruguay and Chile have just joined South America's New Year festivities.
02:00 The clocks have struck midnight in eastern Brazil. Rio de Janeiro is full of people cheering the beginning of the New Year, while some are celebrating in the shallow waters off the city's famous Copacabana beach.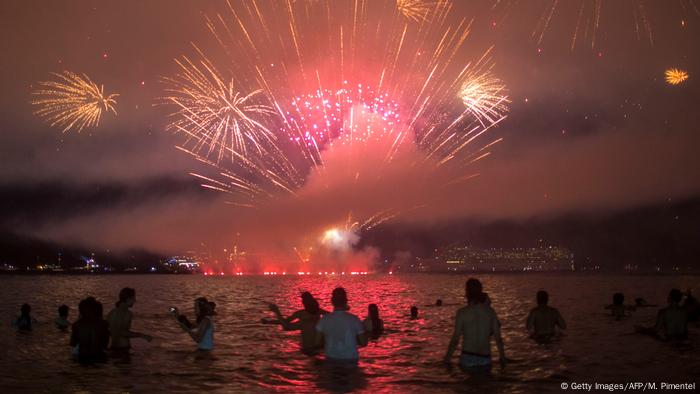 Some people watched Rio's firework display off the Copacabana
00:00 The New Year arrives in Britain, Portugal and the western reaches of Africa. In London, the river Thames hosted the city's famous New Year's fireworks display. Meanwhile in Scotland, Edinburgh welcomed 2018 as part of its annual Hogmanay celebration.
London's fireworks took place over a Big Ben that is undergoing repairs
Read more: Africa in 2018: The old generation remains at the helm
23:00 The skies of western Europe are alight as revelers from northern Sweden to southern Italy hail 2018's arrival.
In the heart of Berlin, fireworks are igniting the night sky behind the Brandenburg Gate. Around a million people are estimated to be attending the city's festivities. Similar celebrations are taking place across Germany, including in Cologne, Hamburg and Munich.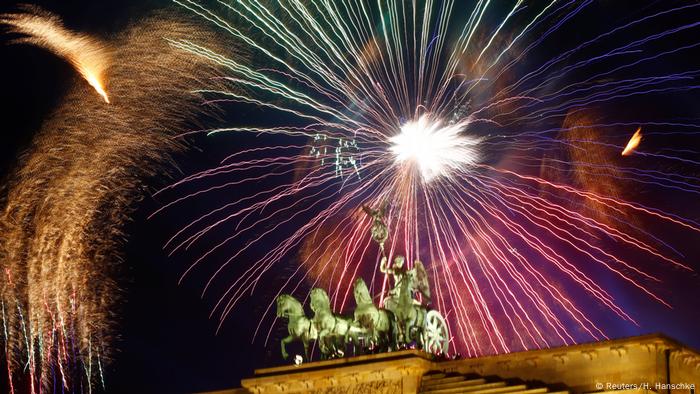 Fireworks explode above the Brandenburg Gate in Berlin
German Chancellor Angela Merkel used her televised speech ahead of the festivities to call for Germans to be more considerate to each other in 2018. The chancellor said that consideration means "paying attention, truly listening, and showing understanding for others."
Read more: Pope Francis bemoans 2017 as a year of war, lies and injustice
In France, President Emmanuel Macron asked French citizens in his televised address to support his ambitions for reforming the European Union (EU).
"I need your determination to enact this European awakening and together we must not give any ground to the nationalists or skeptics," he said.
"We have to rediscover a European ambition, to find a more sovereign Europe, one that is more united, more democratic because it is good for our peoples," he said.
22:00 The New Year arrived in eastern Europe, with celebrations in Ukraine, Greece and Finland.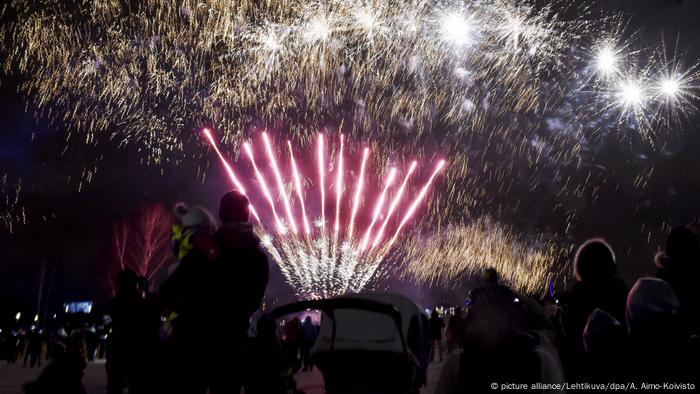 Observers greet 2018 with a firework display over Helsinki, Finland
21:00 Moscow welcomes 2018 with a dazzling firework display over the city's famous Red Square.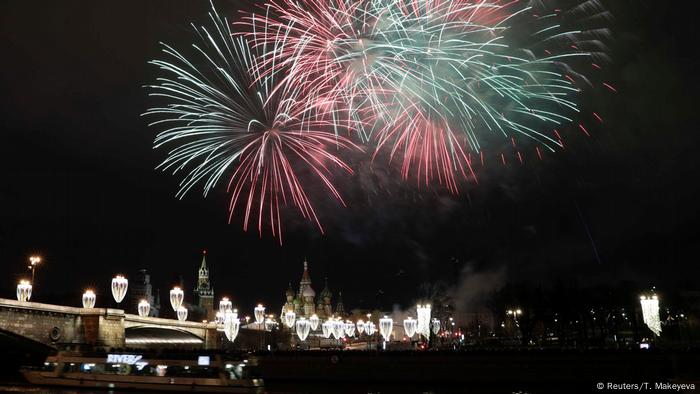 Fireworks lit up the night sky over the Kremlin in Moscow
President Vladimir Putin used his New Year's address to call on Russians to be considerate to each other, according to Russian news agencies. "Say the most cherished words to each other, forgive mistakes and resentment, admit love, warm up with care and attention," he said.
20:00 Dubai and Abu Dhabi celebrated the New Year.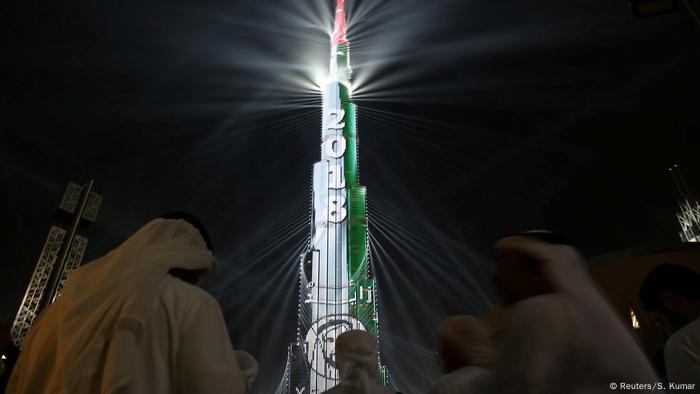 Burj Khalifa is lit up during the new year celebrations in Dubai, UAE
Dubai Police released a video cautioning residents and visitors about New Year's Eve celebrations, as 1.5 million were expected to visit. The video shows the pathways that should be taken by bachelors and families.
18:30 New Delhi, Bangalore and Mumbai in India saw in the New Year, followed by Islamabad and Karachi in Pakistan.
Security was tight in the southern Indian city of Bangalore to prevent a repeat of incidents of alleged groping of women during last year's New Year's Eve celebrations.
17:00 Jakarta, Bangkok, Hanoi and Phnom Penh join the fun as the global 2018 party shifts westward.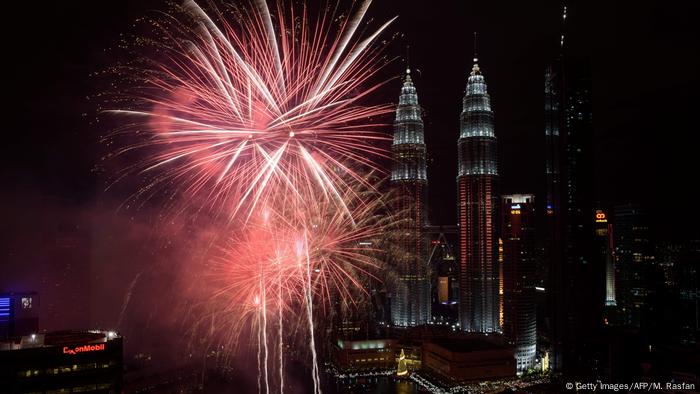 Fireworks near Malaysia's Petronas Twin Towers during New Year celebrations in Kuala Lumpur
16:00 Beijing, Hong Kong, Manila and Singapore joined the global party celebrations.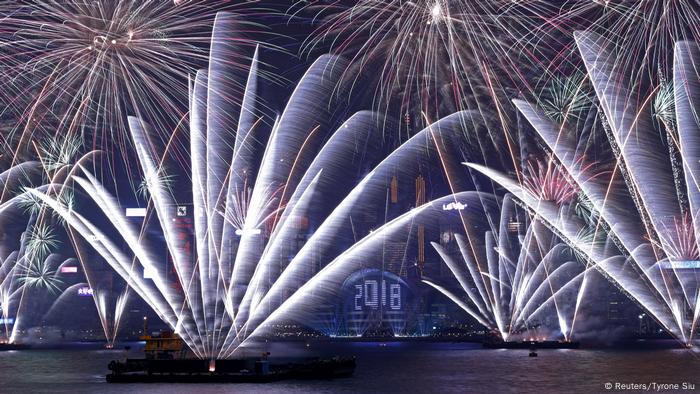 Fireworks over Victoria Harbour and Hong Kong Convention and Exhibition Centre in Hong Kong
Hundreds of Indonesian couples celebrated the advent of the New Year by getting married in a mass wedding in the capital Jakarta, while 86 people were injured by celebratory firecrackers in the Philippines ahead of the celebrations.
15:30 Pyongyang joined the global celebrations, as North Korea rings in 2018.
15:00 Tokyo, Seoul and Eastern Siberia joined in the global celebrations as 2018 arrived.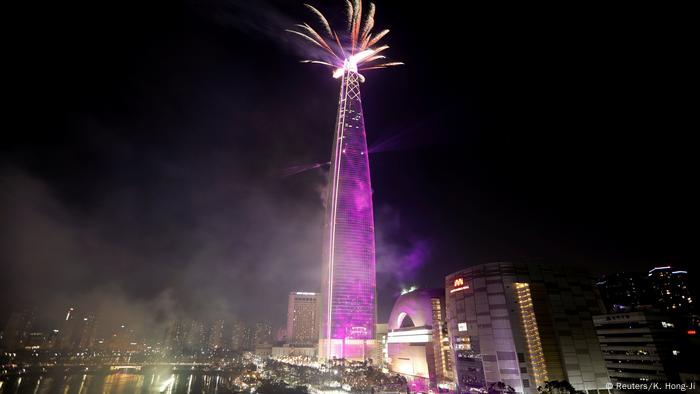 Fireworks over Lotte Group's 123-storey skyscraper Lotte World Tower during New Year celebrations in Seoul
The arrival of Japan's Year of the Dog was celebrated at Tokyo's Zojoji Temple, where people took turns to strike the giant bell 108
times at midnight.
Thousands filled the streets near Seoul's City Hall for the traditional bell-tolling ceremony. The dignitaries selected to ring the old Bosingak bell at midnight included Soohorang and Bandabi - the tiger and bear mascots for the Pyeongchang Winter Games and Paralympics that take place in February and March.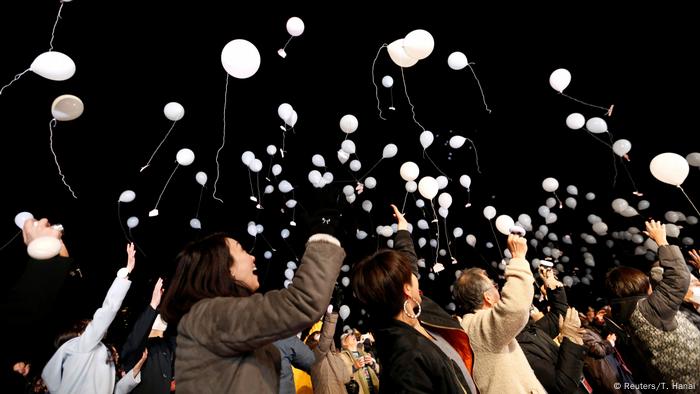 People release balloons as part of a New Year countdown event in Tokyo
14:30 The cities of Darwin and Alice Springs in Australia's Northern Territory ticked over into the New Year a half hour after Brisbane.
14:00 Papua New Guinea, the US territory of Guam, and parts of Antarctica entered the New Year along with the eastern Australian state of Queensland.
The city of Brisbane posted a picture of its own rainbow-colored fireworks on Twitter:
13:30 Thousands gathered in Elder Park in the southern Australian city of Adelaide to welcome the New Year, reported Australian broadcaster ABC. Their festivities came a half hour after Sydney.
13:00 Australia's largest city Sydney kicked off 2018 with a fireworks extravaganza that drew over 1.5 million spectators to the harbor. Sydney marked Australia's legalization of same-sex marriage with a rainbow waterfall that cascaded from the Sydney Harbor Bridge.
"This is a fabulous way to see out 2017 — the year that four out of five Sydneysiders said a resounding 'Yes' to marriage equality," said Sydney Lord Mayor Clover Moore.
Prior to the show, thousands had to be evacuated from a beach north of Sydney after a barge filled with fireworks caught fire. The fireworks exploded as the vessel sank into the water.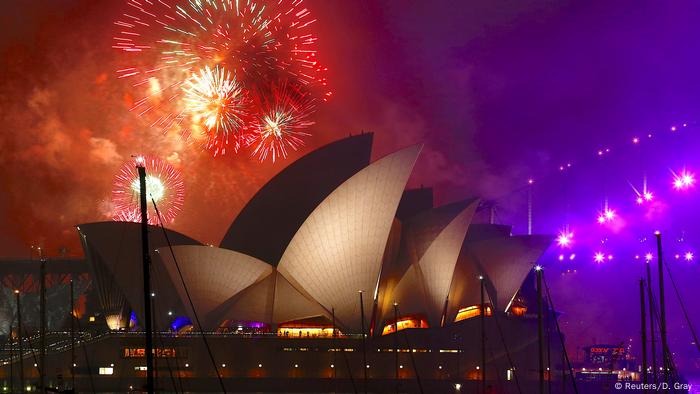 Fireworks displays in Sydney kicked off hours before midnight with a 'kid-friendly' show
The Australian city of Melbourne as well as the people of Vanuatu, Micronesia, the Solomon Islands, New Caledonia, and some regions of Russia gathered to celebrate the arrival of 2018.
11:00 New Zealand rang in the New Year with a five minute non-stop pyrotechnics display from the upper deck of Auckland's Sky Tower. Fireworks boomed in other cities around the country while tens of thousands of people gathered at beaches and harbors to watch the festivities.
10:00 The Pacific nations of Samoa, Tonga and Kirbati were the first to welcome 2018, celebrating with traditional dancing and juggling. Samoa legally switched over its time zone in 2012 to avoid being 23 hours behind major trade partner New Zealand. In doing so, it moved from being the last country to celebrate the New Year to being the first.
Revelers in major cities around the world can expect to see heightened security amid fears that the large crowds could be targets for vehicle and terror attacks.
rs, amp, jbh/sms (AP, AFP, dpa)