Corinthians won the tournament Sunday at the 68,000-capacity International Stadium in Yokahoma through a lone goal from striker Paolo Guerrero.
Chelsea, who won the Champions League earlier this year after beating German side Bayern Munich, nearly took an early lead in the eighth minute when Corinthians goalkeeper Cassio fumbled a Gary Cahill shot. But he recovered in just enough time to dive on the ball before Victor Moses could arrive with the follow-up.
In the 28th minute it was Cahill who made the mistake, letting a ball slip under his foot that Emerson was there to meet. But the former Qatar international, one-on-one with Petr Cech, sent his shot high and over the bar.
One goal wins it
Guerro, who spent nearly ten years in Germany playing for Bundesliga sides Bayern Munich and Hamburg, scored the only goal of the evening in the 69th minute.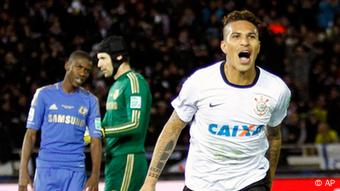 A single goal from Guerrero was enough to give Corinthians the title
Cahill blocked a Danilo shot high into the air, and Guerrero acted first, heading the ball into the back of the net.
Chelsea forward Fernando Torres had his team's best chance to equalize with just four minutes to go, but his shot from within the six yard box went straight at Cassio.
A 90th minute red card to Cahill meant Chelsea finished the game with ten men, and Corinthians walked away winners.
"It is an incredible feeling," Guerrero told reporters after the match, while is side celebrated in front of the over 15,000 Corinthians fans who made the trip.
"To win in front of so many Corinthians fans who came all this way. It's tremendous, unbelievable."
Second title for Corinthians
Corinthians won their first Club World Cup in 2000. They are the first South American side to win the title since 2006.
"They are a very good team, but we come away with that bad feeling that we had enough chances to at least draw the game," said Chelsea midfielder Frank Lampard. "It is very disappointing to come all the way out here and not win it."
Earlier in the day, CONCACAF champions Monterrey of Mexico beat African champions Al-Ahly of Egypt 2-0 in the third place match.
dr/kms (AFP, dpa, Reuters)