Ukrainian prosecutors have demanded a seven-year prison sentence for opposition leader and ex-Prime Minister Yulia Tymoshenko in an abuse of power trial that threatens to undermine Kyiv's burgeoning relations with the European Union.
"We ask [...] that a seven-year sentence be given," chief prosecutor Liliya Frolova told the court in Kyiv as hundreds rallied outside the courtroom in Tymoshenko's defense.
The controversial indictment was met by shouts of "Liar!" and "Shame!" from Tymoshenko's party supporters present in the courtroom.
"We do not think a crime was committed," said Oleksandr Plakhotniuk, a member of the defense team, after the judge brought the session to an end Tuesday.
Speaking to journalists back at her holding cell, Tymoshenko herself demanded: "This absurd show needs to be ended. [...] I want to remind [President Viktor] Yanukovych - wherever I am, in jail or at liberty, I feel a free person."
Puppet judge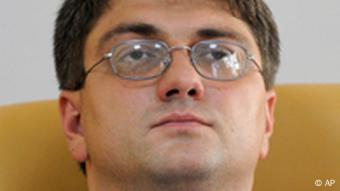 Widespread complaints claim Kireyev is unfit for the case
The charismatic but divisive Tymoshenko, who led Ukraine's Orange Revolution and is one of the country's most widely recognized personalities abroad, has dismissed the trial from the start as a political vendetta launched by the new government - in particular President Yanukovych.
Tymoshenko, who has been in the Kyiv cell since August 5 after being jailed for contempt of court, accuses Yanukovych of having commissioned a judge to carry out his wish to imprison his former political rival.
Throughout the trial, Tymoshenko has refused to even look at Judge Rodion Kireyev, whom she has also verbally attacked on numerous occasions, describing him as Yanukovych's political puppet.
The Tymoshenko trial is a kind of premiere for the young judge, who at age 31 has never dealt with a case concerning the abuse of political office, according to Ukrainian media reports. The Kyiv Post reported earlier this week that Kireyev had only been a judge for two years, leading to widespread complaints of his lack of experience.
And, prior to the Tymoshenko trial, which in the words of Yanukovych places a "tremendous responsibility on the entire Ukrainian justice system," the paper said Kireyev had only presided in local courts over cases of hooliganism and minor theft.
Random assignment
Ukrainian justice authorities claim Kireyev was chosen for the assignment randomly. A significant judicial reform launched by Yanukovych last year resulted in a law that saw judges chosen for all criminal proceedings with the help of a computer.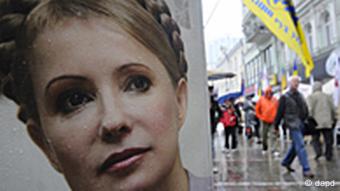 The Tymoshenko trial has polarized Ukrainian society
However Serhiy Vlasenko, Tymoshenko's defense lawyer, doubts the likelihood that Kireyev was chosen at random to preside over this case. The Ukrainian justice system has ignored up to this point all requests for proof that the assignment was not specifically assigned.
"I saw with my own eyes that the Tymoshenko file was assigned by the prosecution," Vlasenko told Deutsche Welle. "There's no doubt that an inexperienced judge was consciously chosen for this case, one who will follow orders that can be closely controlled."
Administrators at the Pechersk municipal court in Kyiv, however, reject the accusations.
"All judges are assigned in accordance with the law, and there's no difference in the Tymoshenko case," Natalia Linnik, chief administrator at Pechersk, told Deutsche Welle.
Heavy load


Despite Kireyev's lack of experience, the Ukrainian association of judges is convinced he is doing a sufficient job. His handling of proceedings has been described as "professional" throughout.
"He is in a difficult situation because of the expectations coming from every angle," explained Katerina Tarasova, the association's chairwoman.
The public eye has put the young justice under a load of psychological pressure, she added, which could increase the chances that he makes a mistake.
Tarasova also conceded that one could easily "get around" the dispute concerning how Kireyev was assigned to the position in the first place. If it can be determined that the assignment was not made using the automatic system, the verdict - which is expected this week - can be challenged.
Bad timing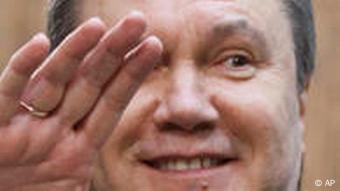 Yanukovych will face top EU officials in Poland this week
The explosive case has set Yanukovych at odds with the European Union in the heat of crunch negotiations seen as critical for Ukraine's first step towards membership in the European Union.
"If this issue is not being solved and if she indeed is put in prison [...] it would be problematic," said European Union Enlargement Commissioner Stefan Fule during a visit to the Black Sea city of Yalta earlier this month.
"It would seem to many totally incompatible with the very values that are the basis for the agreement," he added.
The EU has since hardened its position further, warning Yanukovych it could even scrap planned bilateral deals on free trade and political association.
Yanukovych, who says EU integration is a top priority of his government, will have to face top EU officials at a two-day "partnership" summit in Poland starting Thursday.
Authors: Lilia Hryschko, Gabriel Borrud
Editor: Martin Kuebler