Ever since Bob Dylan was named the winner of the Nobel Prize in Literature last week, the iconic poet-musician has been out of touch, at least for the Swedish Academy.
"We haven't established direct contact with Bob Dylan yet," the academy's permanent secretary, Sara Danius, told the Associated Press on Tuesday. "It would be delightful if Dylan wanted to come to Stockholm in December [to accept his award], but if he doesn't want to, he doesn't want to."
Dylan's reluctance to acknowledge the honor brings to mind Austrian author Elfriede Jelinek, who was chosen for the prestigious literary award in 2004. Since being singled out by the Swedish Academy, Jelinek, who turns 70 on Thursday, has noticeably withdrawn from public view. In the 1980s and 1990s, she often played the role of the sharp-tongued moralist. Today, she only rarely gives interviews.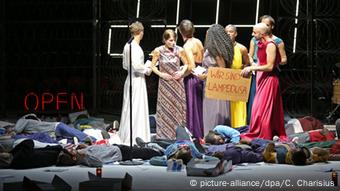 A recent performance of the refugee drama "Die Schutzbefohlenen" angered right-wing extremists
Her latest play, "Wut" (Anger), premiered to great acclaim back in April at the Munich Kammerspiele. Its focus: the rage of religious fanatics and the anger of supposedly decent citizens.
During a recent performance of Jelinek's play "Die Schutzbefohlenen" (The Suppliants), which takes on Europe's asylum policies, a group of right-wing extremists burst into the theater in Vienna, splattering artificial blood and throwing flyers with the slogan "Multikulti tötet" (Multiculturalism kills) into the crowd. It seems Jelinek continues to agitate - at least in Austria.
Winner of multiple awards
Jelinek, a former communist, has developed the reputation of a radical feminist and provocateur, whose work is well regarded, but, as "Der Spiegel" points out, difficult for many to appreciate. She has been decried as a "desecrator of art and culture," denigrated as a "red pornographer."
"The press took possession of Jelinek with an almost obscene zeal, and plastered her on the front pages and billboards," said Austrian writer Olga Flor in a column for the Viennese newspaper "Der Standard." For Austria, any critical appreciation of Jelinek's contribution to the arts on her 70th birthday is likely to be difficult.
Her body of work includes novels, plays, poems, radio plays, essays and scripts. In Austria and Germany, Jelinek, who divides her time between Vienna and Munich, has been honored with all the important awards - the Heinrich Böll Prize from the city of Cologne (1986), the Georg Büchner Prize (1998), four Mülheim Drama Prizes (2002, 2004, 2009, 2011), as well as War Blinded Audio Play Prize (2004).
Paying tribute to Jelinek when she received the Büchner Prize, critic Ivan Nagel called her a "storyteller of utmost refinement and skill." Her work is relentlessly realistic, almost intolerable, "but it is great and necessary."
For decades, Jelinek has been writing against abuses in public life and politics, but also about private life in Austrian society. She makes use of a sarcastic, provocative and - for that reason - disturbing style. Many of her works revolve around the suppression of Austria's Nazi past, increasing xenophobia and the rise of right-wing populists.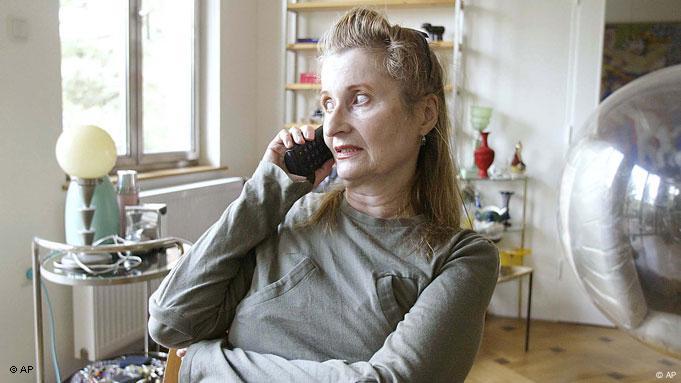 Jelinek's 2004 Nobel Prize for literature was a surprise to many, including the author
Troubled childhood
Jelinek, born in the eastern Austrian town of Mürzzuschlag on October 20, 1946, grew up in Vienna. As a young woman, she dealt with her father's neuropathy and her own mental problems. Under the influence of her "demonic" mother, Jelinek said she was "trained" as a child prodigy in dance and music. She said she began writing to escape her mother's patronizing, dominating behavior.
The debates about her novels, poems and plays have surely not passed her by. Her 1989 novel, "Lust," skewered a male and class-dominated society, denouncing the sexual oppression of women. In the 1983 book "The Piano Teacher," she criticized violence committed behind closed doors, while in "Stecken, Stab und Stangl" (Rod, Staff, and Crook, 1995), she scandalized with her criticism of the media and political reaction to the murders of four Roma in eastern Austria.
When the news came of her Nobel win in 2004, even her Berlin publishing house was surprised. She declined to attend the award ceremony in Stockholm, saying she was "not in a mental shape to withstand such ceremonies." She might be in good company - if Dylan ends up doing the same and stays home in December.