President Joseph Kabila accused his opposition of trying to incite "bloody riots" in a statement on Wednesday night. He also called for calm and expressed condolences to the victims killed in the clashes on the streets of Kinshasa.
Kabila was "profoundly touched by these sad events," his office said.
The authorities in the Democratic Republic of Congo (DRC) announced that 32 people were killed during the previous two days, adding that four police officers were also among the victims. The opposition, however, puts the death toll at over 100.
The government's opponents called for street protests after the country's electoral commission asked for a delay of the presidential ballot, which was originally scheduled for November. The electoral body said that the voters' registration lists would not be ready on time. However, many believe the move is aimed to allow president Kabila to prolong his rule past the end of his term in December.
The opposition also accuses Kabila of planning to run for a third term, which is forbidden by the constitution.
Police fired at protesters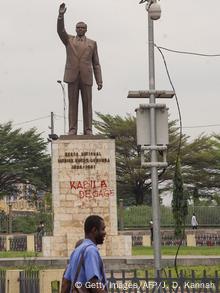 A graffiti reading 'Kabila get out' on a statue in Kinshasa
Clashes first broke out between police and groups of stone-hurling protesters on Monday morning. The violence escalated to include attacks on police property and ruling party offices in the Congo's capital city. An office of the main opposition party was also torched, and at least two bodies were found inside on Tuesday
Activists and opposition representatives blamed the security forces for the escalation. Most of the victims "were killed when the security forces fired on crowds of protesters," Human Rights Watch researcher Ida Sawyer said on Tuesday.
On Wednesday, police spokesman Pierrot Mwanamputu said that 114 people were arrested and that the government was determined to find those responsible for violence and looting.
Troubled legacy
"Investigations will spare no one," Mwanamputu told reporters. "If police or soldiers violated ethics or the law, measures will be taken."
The UN Security Council has also called for calm and urged Congolese authorities to exercise "maximum restraint."
The DR Congo has not had a peaceful transfer of power since gaining independence from Belgium in 1960. Joseph Kabila took over as president after his father was assassinated in 2001, and his reelection in 2011 was also disputed.
Kabila has yet to announce whether he intends to run for a third term.
dj/kl (AP, AFP)