Conflict and hyperinflation are the main causes of South Sudan's hunger crisis, according to the latest assessment by UN and aid agencies in the world's youngest country: South Sudan.
The updated Integrated Food Security Phase Classification (IPC) report was released Monday by the Government of South Sudan, the UN's Food and Agriculture Organization (FAO), UN Children's Fund UNICEF, the World Food Programme (WFP) and other humanitarian groups involved in the region.
"The widespread and extreme food consumption gaps ... should make us all extremely concerned about the worst case scenario of famine in many locations across South Sudan in 2018," said Katie Rickard, country coordinator for REACH, a humanitarian research initiative that provided data for the report.
The total number of people affected by food shortages is estimated at 4.8 million and the number of those classified as living "in emergency" has doubled since last year in the land-locked East African country. More than 1.1 million children under five are forecast to be malnourished in 2018 including nearly 300,000 "at a heightened risk of death," according to the report. South Sudan's population is just over 12 million.
Insecurity continues to hamper food production and disrupt markets, leading to high food prices. Sacks of staple foods such as sorghum, maize and wheat flour have increased by up to 280 percent compared to last year, according to the IPC report.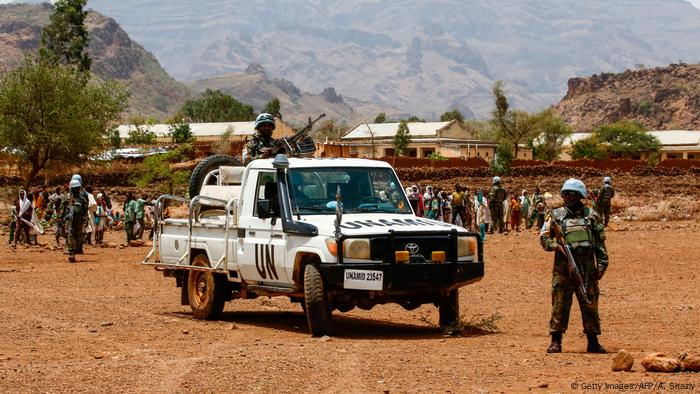 Rwandan peacekeepers in Darfur
Looking for a solution
"The harvest season has not brought much relief to the millions of people in South Sudan who don't have enough food. The country's greenbelt has been ravaged by fighting, and finding a peaceful solution to this man-made tragedy should be the top priority or the situation will get even worse next year," said Serge Tissot, FAO's Representative in South Sudan. Households are expected to run out of food before the next harvest three months earlier than last year.
Despite being one of Africa's biggest oil producers, the oilfields have become a key strategic target in the conflict with battles to control them displacing communities and destroying infrastructure.
The IPC report called for a humanitarian corridor from Wau to Greater Baggari to allow aid agencies access to provide assistance.
Weapons of war
The parties to the fighting have been accused of using access to food as a weapon of their war.
"Both government and opposition forces have used food as a weapon of war, ranging from restrictions to civilian access to food, actively preventing food from reaching certain areas, systematically looting food and markets and homes and even targeting civilians carrying small amounts of food across front lines," Alicia Luedke, South Sudan researcher for rights group Amnesty International, reported.
Tens of thousands of people have died and more than two million have been displaced since the conflict in South Sudan began in December 2013 when President Salva Kiir accused his former deputy Riek Machar and ten others of attempting a coup d'état.
Despite a peace agreement signed in August 2015 by the two men fighting has continued and extended to in-fighting between former allies. At the weekend, troops were sent to surround the home of former military chief of staff Paul Malong who has been under house arrest since being fired in May. He had been one of Kiir's closest allies.
South Sudan had declared independence from Sudan in 2011, after a decades-long civil war with Sudan's ethnically Arab north that had lasted decades.
The IPC report warned that the conflict, constraints on aid agencies and economic instability were expected to result in the deterioration of already dire conditions in multiple locations across South Sudan in 2018.
jm/kms (AP, AFP)