Alaadin Kilic sold his house, the turnover of his restaurant fell by 50 percent. He has worked in the restaurant industry for years in Diyarbakır under the name "Kahvaltici Aladdin" ("Aladdin the Breakfast-Maker"). Amid the peace process between the Turkish government and the PKK (Kurdistan Workers' Party) that lasted for two years, he took out a bank loan and opened another branch. But the peace process collapsed in the summer of 2014 - and Kilic faced hard times.
"The number of loaves of bread we go through in a day has dropped from 400 to 130. We were selling 450 bowls of soup a day, now we're selling 90. We were selling roasted meat to go, and that has declined drastically", Kilic told DW. "Public employees won't go out anymore. Tourist groups used to come, but that has stopped completely." If this trend continues, he has to close down his business.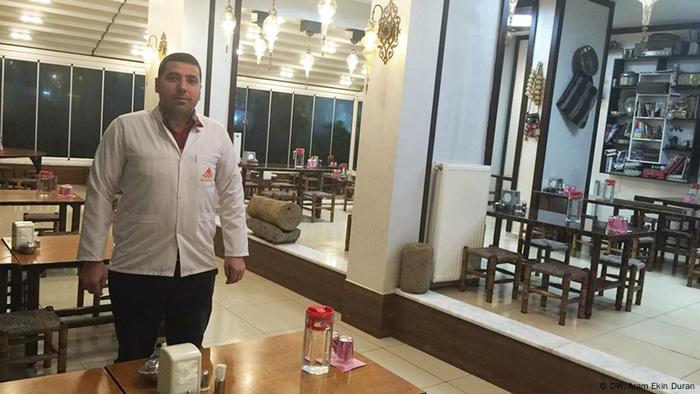 Alaadin Kilic is facing hard times because of the conflict in southeastern Turkey
Amid clashes between the PKK and Turkish security forces, a curfew was imposed upon the central Sur district of Diyarbakır almost 100 days ago. The city in southeastern Turkey has also seen a wave of migration from Syria and the northern Iraqi province of Sinjar since 2014. While Sur was once the star of the region, with the construction and tourism sectors developing alongside culture and arts, now thousands of businesses are closing down, leaving thousands out of work. While nearly 90 percent of the businesses in and around Sur have been forced to close, commerce figures have declined an estimated 25 percent throughout the city of Diyarbakir.
In the districts of Yenisehir and Kayapinar are camps hosting Yezidi refugees, many of whom fled from the province of Sinjar when "Islamic State" militants slaughtered thousands in the area. The number of people living in these camps has surpassed 10,000. While there are ongoing, if limited efforts to meet the needs of those residing in the camps, the rising conflict in the area has negatively impacted their lives.
More than 10,000 people lost their jobs
According to the Diyarbakir Chamber of Commerce and Industry (DTSO), 3,000 businesses in the district of Sur have closed down while more than 10,000 people have lost their jobs. Ahmet Sayar from the DTSO said the district was facing a very deep economic and humanitarian crisis. Figures provided by the Migrants' Association for Social Cooperation and Culture (GÖÇ-DER) show that 200,000 people have emigrated from areas that have been put under curfew in southeastern Turkey - 20,000 from Sur alone. "We've seen export losses of $40 million (37 million euros). The construction sector has frozen. Managers have come to the point where they are unable to pay salaries, taxes and insurance premiums," Sayar said.
The whole city of Diyarbakir has experienced a serious economic downturn, he added. "There is a 50 percent loss in business. Sur is the heart of Diyarbakır. It is the center for many sectors, including the tourism and service industries. As such, it is possible to talk about an economic loss in the billions," Sayar said. He considered that the plan recently unveiled by Prime Minister Ahmet Davutoglu to address problems in the area was unlikely to be sufficient.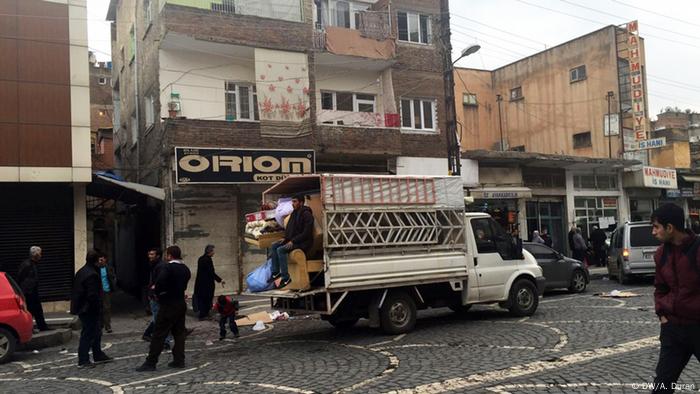 More than 3,000 businesses were closed in the district of Sur
"No stability without peace"
Hotels in Sur have closed down due to clashes and the tourism sector has practically come to a halt, said the president of Diyarbakir's Tradesmen and Craftsmen Chambers Union (DESOB), Alican Ebedinoglu, adding that about 10,000 businesses throughout the city had to close their doors.
This could lead to a dangerous domino effect. "We have wholesalers, 90 percent of whom work in Mardin and Şırnak. Diyarbakır is a logistics center. Everyone is affected by the clashes," Ebedinoglu said. "For this reason, not just the places where curfews have been imposed, but the whole region should be declared a disaster area."
However, Ebenioglu said he had been unable to voice the problems of those whom his union represents because of the dramatic situation in the region: "This wasn't our priority because we know very well that without peace there cannot be stability.
The banking sector is also facing serious problems in the area. When one bank completely shuts down all services in Diyarbakır, other banks follow suit. This has made it even harder for struggling businesses to obtain bank loans.