The leftist alliance won 113 seats in Nepal's national parliament while the ruling center-left Nepali Congress party took just 21, the election commission reported on Tuesday.
The leftist alliance, composed of the communist Unified Marxist Leninist and Maoist Centre parties, was also leading in six out of seven newly created provincial assemblies mandated in a new national constitution, which was officially adopted in 2015. This year's elections were the first to be held under the new constitution.
Read more: Nepal votes in first parliamentary election since 1999
The Unified Marxist Leninist and Maoist Center were in first and second place in the polls and Nepali Congress was coming in at third.
Nepalese Prime Minister Sher Bahadur Deuba, who also serves as chairman of Nepali Congress, won his seat from a constituency in western Nepal, but most senior leaders of his party were trounced in the polls.
The country's parliament is composed of 275 seats, 110 of which are allocated on a proportional representation basis. There are also 550 seats across the seven provincial assemblies.
Read more: Nepal holds first local election in 20 years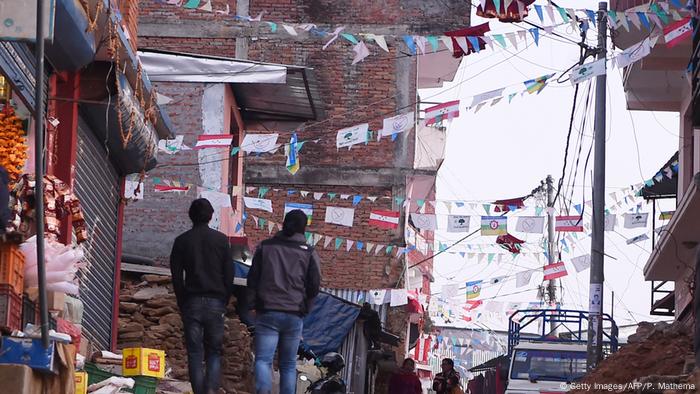 Nepali pedestrians walk through a market donned with party flags.
Ram Sharan Mahat, a former finance minister of the Nepali Congress, said the Nepali Congress had suffered losses due to votes being less spread out.
"In earlier elections, votes had been divided among three main parties. But, after their alliance, it became a race between the two," said Mahat. "Our party made several missteps in choosing candidates and presenting an image during the campaign," he said.
Read more: Opinion: Nepal hopes upcoming elections will bring stability
The full results from Nepal's mixed electoral system, which includes proportional representation and direct elections, are expected in early January.
The new government would likely reinstate Khadga Prasad Sharma Oli, who also goes by the name of K. P. Oli, as prime minister. Oli was briefly premier from October 2015 to August 2016, but lost his seat when the Maoists dropped out of a coalition government and Oli faced pressure to resign as leader of a minority government.
The landmark polls capped the country's transformation from a Hindu monarchy to a secular republic, following a 10-year Maoist insurgency that left more than 16,000 people dead.
law/jm (dpa, AFP)