Colombia and the National Liberation Army (ELN) started formal peace talks in neighboring Ecuador on Tuesday.
At the opening ceremony, Juan Meriguet, the Ecuadorian representative at the talks, said both the Colombian government and the ELN would try to bring "complete peace" to Colombia through the negotiations. The negotiations are being held at a retreat outside the Ecuadorian capital of Quito.
There was some tension at the beginning of the talks. The government's main negotiator, Juan Camilo Restrepo, said rebels should stop carrying out kidnappings, otherwise "it will be very difficult to advance."
The ELN's chief negotiator, Pablo Beltran, said the government should "take responsibility" for its actions during the conflict, adding that the rebel group would do the same.
The ELN is Colombia's last active guerilla group, after Colombia and the Revolutionary Armed Forces of Colombia (FARC) were able to sign a peace accord in November. That accord will likely serve as a blueprint for talks with the ELN. Colombian President and Nobel Peace Prize laureate Juan Manuel Santos is to be involved with the negotiations.
Separately, Colombian prosecutors said Tuesday they suspected Santos received a bribe from the scandal-plagued Brazilian construction firm Odebrecht for his 2014 re-election campaign. Santos' administration denied the claims and accused the right-wing opposition of making false accusations.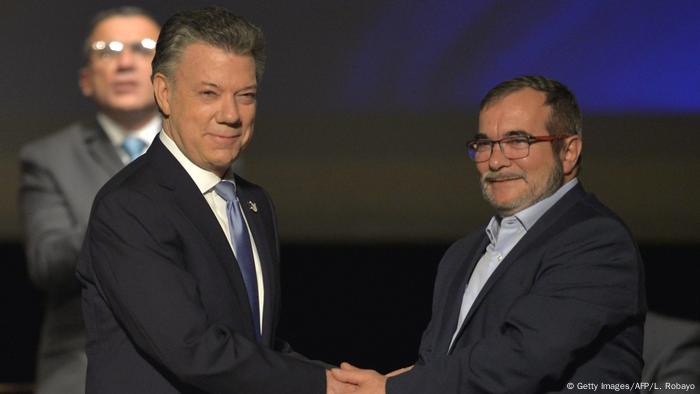 Colombia President Juan Manuel Santos (l) and FARC leader Timoleon Jimenez were able to agree to a peace accord in November
Fifth attempt with the ELN
This will be the fifth attempt to sign a peace deal with the ELN, after failed attempts stretching back into the 1990s. The start of the talks was delayed for nearly 11 months and formally scheduled after the ELN released former lawmaker Odin Sanchez.
The talks are not expected to produce quick results. Negotiations with the FARC lasted nearly four years before an accord was reached.
A new poll from Datexco revealed a drop in optimism for peace in Colombia. The poll revealed 51.7 percent of Colombians were currently optimistic for peace, compared to 67.4 percent in October.
The ELN has approximately 1,500 active fighters according to the Colombian government. The Colombian civil war has lasted for more than half a century and killed over 200,000 people, while displacing millions.
kbd/jm (AFP, AP, dpa)