An interim report published Friday by the "New Year's Eve 2016" special police commission said fewer North Africans were among the men who underwent identification checks at the turn of the year than initially thought.
The revised statement marks the first release from the investigation, chaired by Cologne Police Chief Jürgen Mathies.
According to authorities, "about 2,000 North Africans or Arab-looking young men" came to Cologne's main train station and the nearby Deutz station on New Year's Eve.
In total, some 2,500 items of personal data were collected - although police assume that there may have been multiple checks. The identity was determined for some 674 men and the nationality of another 425.
Among those who underwent identification checks were 99 Iraqis, 94 Syrians and 48 Afghans. From North African states, however, there were just 17 Moroccans and 13 Algerians. Another 46 of those checked were German.
Mathies said the investigation had so far found no evidence that any of the men checked at the recent New Year celebrations were also in attendance the previous year - when hundreds of sexual assaults and robberies took place that were later blamed on people of "Middle Eastern or North African" appearance.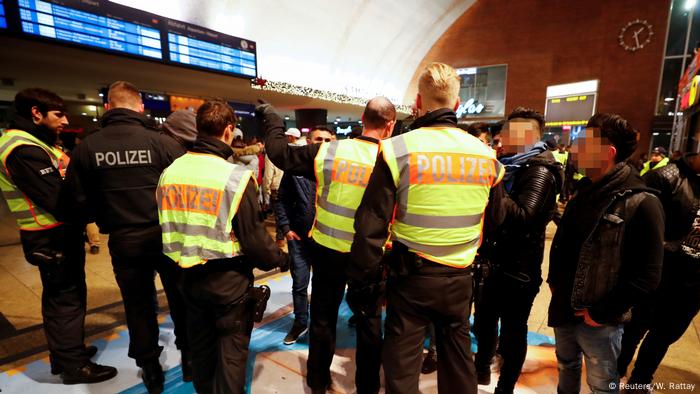 Cologne police carried out ID checks on some 2,000 men on New Year's Eve
Previous evaluations also found that no suspect from New Year's 2015, and none of the 75 people banned from the area, was found at the 2016 celebrations.
Unanswered questions
On Friday, Mathies said many questions were still to be answered.
"Extensive investigations into several hundred checked people and their nationalities are time-consuming," Mathies said, adding that investigations were not limited to Cologne.
The findings of both North Rhine-Westphalia's Criminal Police Office, as well as the Federal Criminal Police Office, also involved other German states and some European countries.
Cologne police also confirmed on Friday that three crimes of a sexual nature had been reported regarding the square between Cologne cathedral and the city's central train station, marking a huge decline from last year's figures.
Claims of racial profiling
Authorities stepped up security this year with some 3,000 people officers deployed in Cologne. On New Year's Day, however, police were under fire for allegedly "racially profiling" hundreds of people of North African descent as they carried out patrols and identification checks.
The human rights organization Amnesty International demanded an independent investigation, claiming that "hundreds of people were surrounded by police or underwent an ID check, purely on the grounds of their actual or supposed North African origin."
"Racial profiling is a violation of human rights and not a suitable measure by a legal state to establish public security," the Amnesty expert Alexander Bosch said.
Sigmar Gabriel, Germany's vice chancellor and the leader of the Social Democrats (SPD), rejected the criticism, saying the allegations of "racial profiling" were "an absurd and almost crazy debate."
Cologne police also came under fire for their use of the abbreviation "Nafri" when referring to North Africans in a tweet overnight.
"Hundreds of Nafris screened at main railway station," Cologne police wrote.
Mathies said in hindsight that he thought it was a mistake to use the term on social media, but stood by calling North African men "Nafris" as part of police jargon.