Cologne Cathedral's largest bell, officially called "St. Peter's bell" but known in common parlance as the "Dicker Pitter" ("Fat Peter"), will not be ringing this Christmas as repairs on its clapper mounting continue, according to a spokesman from the cathedral building workshop.
"The preliminary examinations have now been finished. At present, a new mounting is being designed. By the time it has been made and mounted, it could be spring of 2018, I'm afraid," Matthias Demel told local newspaper Kölnische Rundschau.
As the bell rings only for major Catholic holy days and special church occasions, this means Cologne will in all likelihood next hear it tolling at Easter 2018 at the earliest.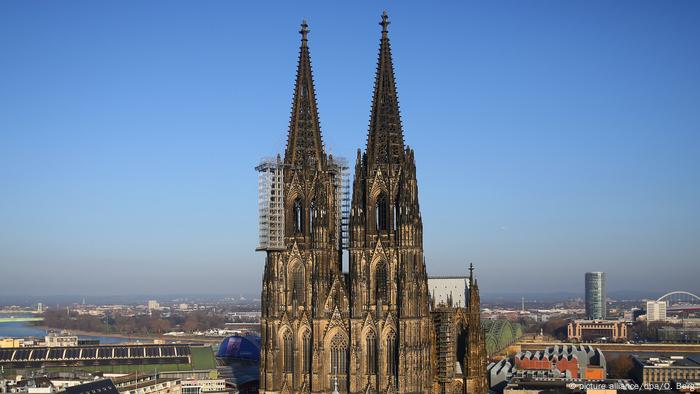 The cathedral in Cologne is a major landmark and tourist attraction
Adjusting the sound
But when it does ring out over the German city, its sound could well be more resonant, as current repairs aim to allow the some 600-kilogram (1322-pound) clapper to hit the bell more precisely — or, as bell specialists say, to "kiss" it better. The clapper and its mounting were removed back in April after scientists discovered that repair work in the fifties had left the clapper striking the bell at the wrong place and causing material degradation.
Six years ago, in January 2011, the clapper even left its mounting and dropped on to the floor below, damaging it beyond repair. A new one was cast and installed in December of the same year.
The "Dicker Pitter" itself, which weighs some 24,000 kilograms, was cast in 1923 to replace the previous "Emperor's Bell" of 1873, whose sound was considered poor.
Another of the world's famous bells, Big Ben in London, is also undergoing repair work and will not be heard again until 2021.
Read more: London's Big Ben bell falls silent for four years