The public debate over an accelerated phase-out of Germany's nuclear energy program has pushed the nation's domestic coal industry back into the spotlight. Nuclear energy provides over 23 percent of Germany's electricity, and if nuclear plants go offline soon, renewable energy sources are not going to be able to completely cover the shortfall.
"In the short run, we cannot do without conventional energy generation," said Franz-Josef Wodopia, managing director of the German Hard Coal Association (GVSt). "Both in terms of the power supply itself as well as far as its role in stabilizing the power grid."
He said coal will now have to play the "bridge function" that nuclear technology was once meant to as the country transitions to renewable energies. Franz-Josef Wodopia of the German Hard Coal Association
Even though parliament recently signed off on a deal that spells the final end to subsidized coal mining in 2018, that doesn't necessarily mean Germany's mines will lie abandoned after that date. The Social Democratic parliamentary group is now researching if coal mining will be possible after 2018 without government support.
Some officials in the government would like to keep open the option of maintaining at least one pit that could still be mined. Because of the rising price for coal on the global market, the Mining, Chemical and Energy Industrial Union (IGBCE) has also said commercial mining is a consideration, especially when given recent developments on commodity markets.
Coal prices
A few years ago, Wodopia said, imported coal in the harbors of Amsterdam, Rotterdam and Antwerp cost 40 euros per ton. "Now we pay over 100 per ton," he added. "A lot has happened."
In addition, Germany is rich in coal types that are much desired on the world market, that Wodopia says could be competitively mined even today. Private investors have already shown interest in a deposit of more than 100 million tons of coking coal located near the city of Hamm in North Rhine-Westphalia. High-quality coking coal is in high demand among steel manufacturers and is not often found in such large quantities.
So while there is light at the end of the tunnel for the German coal industry, much remains to be done, especially in the area of emissions and the modernization of coal-fired power plants.
Beginning in 2013, emissions trading schemes are set to get tougher and any return to coal will have to take environmental concerns into account.
A 'longwall coal plow' developed in Germany
Next generation of plants
Technological developments in the area of coal-fired electricity generation have made efficiency rates of 46 percent possible. Plans for the next generation of power plants, with an efficiency rate of over 50 percent, are already on the drawing board. What is missing, according to Wodopia, is political support. In other words, regulations need to be loosened.
Coal imports, he said, will not always be available at reasonable prices. Australia won't always be able to supply the massive amounts of coal it currently exports.
"There are no more countries like Indonesia, which a short while ago was a kind of insider tip and has since emerged as a major player on the world market," Wodopia said. While some new deposits have been found in Africa, the political situation in some countries there has made exploitation difficult.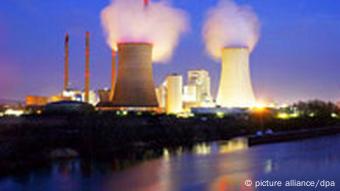 A new generation of 'clean coal' power plants is in the works
He estimated that in the next 10 years, prices for imported coal could rise dramatically.
Plans are still on the table for a kind of model mine, which is something German mining equipment manufacturers would like to see. Around 90 percent of their revenue of 4 billion euros annually is made abroad. But to remain competitive, they need a testing facility closer to home – a mining pit where they can test new equipment and techniques.
A test area like that, where no commercial mining operations take place, could attract research grant money.
Author: Klaus Deuse (jam)
Editor: Sam Edmonds