The 2014 Berlin Fashion Week, which kicks off on July 8, highlights the latest trends in the clothing industry. This year, the main events are the Green Showroom and the Ethical Runway, where brands with a strong social and environmental production record will present their new collections. The Fashion Week's focus on ethical and "green" collections is a sign of the industry's growing awareness about the social and environmental impacts of clothing production.
The tipping point after which the fashion world began showing accountability for unethical and environmentally damaging industry took place on April 24th, 2013, in Bangladesh. That morning, the Rana Plaza garment factory in Dhaka collapsed, killing more than 1,100 textile workers and injuring thousands of others.
Following that tragic incident, the issue of unfair labor conditions in the clothes production industry was extensively highlighted by media and NGOs around the world.
A 2013 report by The Center for American Progress found that clothes manufacturing in most leading garment-exporting nations has delivered diminishing returns for its workers, and that in some cases workers earn subsistence wages for 14-hour workdays.
A report by the Institute of Public and Environmental Affairs, a non-profit organization based in China - where half the world's clothes are made - revealed that industry waste has had dire effects on water sources, soil and air. And according to Greenpeace, leading brands such has Nike and Adidas are failing to follow through on their promises to make sustainable fashion.
"Sustainable fashion means really making sure that within the whole process - from the start until the recycling - international brands are taking full responsibility for their supply chain and minimize harmful impact on the environment," Ilze Smit of Greenpeace International told DW.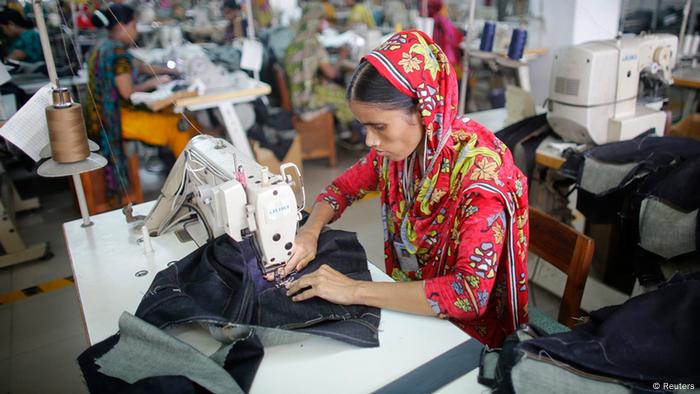 Challenges of a fragmented supply chain
However, regulating a production line spread across the globe and involving contractors, sub-contractors and agents, is a difficult task. Unethical and unsustainable industry practices mostly take place in poorer countries where labor conditions are not supervised, nor are factories' discharge of chemicals or waste footprint.
Several industry stakeholders have taken on the task of evaluating what constitutes sustainable fashion. Cradle to Cradle, a non-profit institute that helps brands produce in a sustainable manner, has defined clear criteria to evaluate sustainability in products: material health, material reutilization, water stewardship, social fairness, renewable energy and carbon management.
"In the current model, we are producing things dirty," said Lewis Perkins, Vice President of Cradle to Cradle's textile and apparel department. He pointed out the industry's excessive energy consumption, water pollution and problematic social practices as the main issues.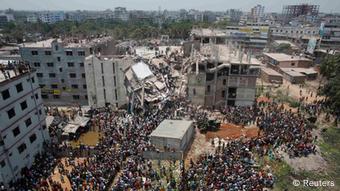 Rana Plaza was the deadliest building collapse incident in history
Sustainable fashion and consumerism
But Cradle to Cradle's sustainability criteria does not to take into account the business model of brands, a significant miscalculation according to Livia Firth, an environmental activist and founder of the consultancy group, Eco-Age. Firth is a loud critic of fast fashion, a business model that sees brands generate dozens of new collections per year at constantly lower prices. She said fast fashion brands, like H&M and Zara, encourage consumerism and put an unnecessary burden on workers and the environment.
"Fast fashion and sustainability is an oxymoron. The solution is to come up with a different business model," said Firth. "Instead of producing 60 collections a year, [brands should] show us that you could slow down the number of collections, because who needs a new item of clothing once a week."
However, H&M's chief sustainability officer, Catarina Midby, said consumerism and sustainability must go hand in hand. If you are not profitable, you cannot be sustainable, she said, adding that H&M keep prices low in order to be accessible to all consumers.
Real sustainable fashion must strike a balance between environmental, social and economic needs, according to Marie-Claire Daveu, chief sustainability officer for Kering, a corporation that owns 22 brands including Puma and Gucci.
"I think what we have to put in place is a new way to consume," Daveu said. "A responsible conception where we take care of our customers, where we take care of the environment but also of our people."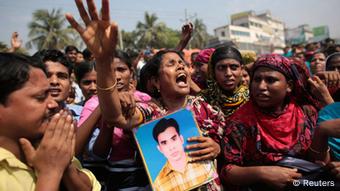 The families of factory workers killed in the Rana Plaza building call for improved working conditions
Is transparency the answer?
To prove they have adopted sustainable and ethical practices, both H&M and Kering publish information on their websites about their products' production process. This voluntary exposure is more than what most companies do.
Such supply chain transparency is an essential step on the path to reforming the unethical and unsustainable way clothes are made, according to Jason Kibbey, CEO of the Sustainable Apparel Coalition (SAC), a collaboration of leading brands and United States Environmental Protection Agency.
"There needs to be a way for the sustainability data to be shared, to be open, to eventually reach the places where it might make a change," said Kibbey.
SAC is currently developing a tool called the Higg Index, which would measure environmental and social impact of brands, then make the information easily accessible.
Smit, from Greenpeace, agrees that transparency is key. "The only way to get to sustainable change in the fashion industry is if we as consumers or global citizens can hold those companies accountable," said Smit. "Transparency and the right to know is a mean to get to the broader goals in the fashion industry - a production process that does not harm the environment and good labor standards."