China's annual, ceremonial legislature, the National People's Congress, opened on Saturday with a speech from Premier Li Keqiang in which he set out the country's 13th five-year plan - a blueprint for economic and social development between 2016 and 2020.
Li, the top economic official, promised to press ahead with market-oriented reforms that will include opening the telecoms, petroleum and public utilities industries. He failed to say whether foreign companies would be included. Private companies are to receive the same treatment as state-owned enterprises in project approval, finance and tax policy. "We must deepen reform across the board," Li said in a nationally televised speech. He said the market "must play a decisive role."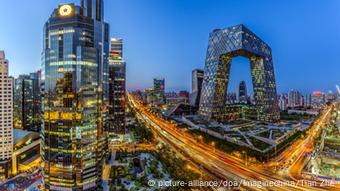 The Central Business District in Beijing
The economic growth target is down from last year's goal of about "7 percent" to a range of 6.5 to 7 percent for the next five years. "A comprehensive analysis of all factors shows that China will face more and tougher problems and challenges in its development this year, so we must be fully prepared to fight a difficult battle," the text of the Li's speech indicated. "Downward pressure on the economy is growing."
Li opened the 12-day parliamentary session at Beijing's Great Hall of the People describing the impact on China of weak trade growth, fluctuations in commodity and financial markets and rising geopolitical risks: "We should not underestimate the impact all of this will have on China's development," he said.
Consumer inflation is anticipated to be "around 3 percent" in the coming year and unemployment "within 4.5 percent."
Reporting on Gross Domestic Product (GDP) for 2015, Premier Li said it reached 67.7 trillion yuan ($10.38 trillion). The service sector contributed 50.5 percent to China's GDP in 2015. That is the first time that services have accounted for more than half of GDP.
Retrenchment program
Authorities are also to make cuts to overcapacity in the steel, coal, and "other industries facing difficulties." China aims to lay off 5-6 million state workers over the next two to three years, according to two sources cited by Reuters. That would be Beijing's boldest retrenchment program in almost two decades.
Li said the country would create 10 million new jobs. China is also to build a second railway linking Tibet with other parts of the country, according to the Xinhua News agency:


A forecast of "a steady rise in import and export volumes" and "a basic balance in international payments" were also cited.
Included in the speech was a pledge for "further reductions in the release of major pollutants." Li said China needed to fix its environmental problem: "We must build a beautiful China where the sky is blue the earth is green and the water runs clear."
On Friday, Beijing was affected by the worst pollution so far in 2016. The city's levels of the dangerous PM2.5 particles were above 400 micrograms per cubic meter in some places, more than 16 times World Health Organization safety level.
China is to increase military spending by 7.6 percent this year, its lowest increase in six years. Premier Li vowed to push on with a modernisation plan that will reduce the number of personnel.
Li mentioned the cruise shipwreck in the Yangtze River and a massive chemical explosion in Tianjin. He said the deaths and injuries "were devastating and profound lessons can never be forgotten."
jm/bw (Reuters, AFP, AP)