China's official Xinhua news agency joined a social media storm Friday, saying police were checking allegations that pre-school children had been "reportedly sexually molested, pierced by needles and given unidentified pills."
Reacting to the latest in a series of scandals over alleged supervisory lapses in China's booming private childcare sector, the education ministry urged officials nationwide to "take warning from these types of incidents."
Read more: Why is China internationalizing its education system?
Apology from operator
RYB Education apologized for the "serious anxiety this matter has brought to parents and society," saying the kindergarten's principal had asserted that the center was the victim of a frame-up by an "individual."
Three teachers had been suspended, said RYB, part of a fast-growing sector fulfilling a growing middle class' parental wish for high-end educational services.
It provides 1,300 daycare centers — some under franchise — and nearly 500 kindergartens in 300 Chinese cities, according to its website.
Read more:
- 'We need to change that girls are seen as objects' to stop sexual violence, says UNICEF
- Child sex abuse: "We have not yet left the taboo zone"
- China kindergarten blast suspect 'had neurological disorder': officials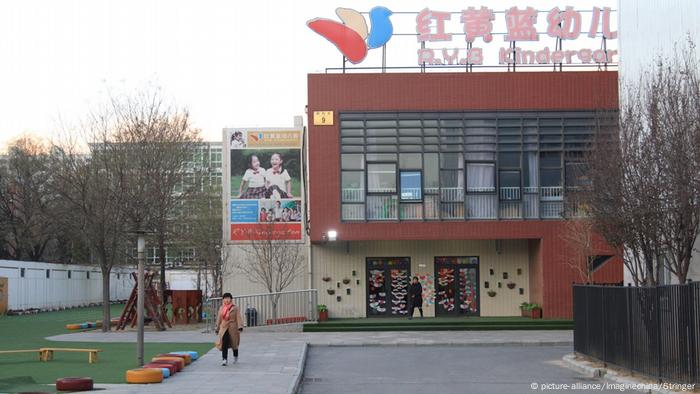 Parents of at least 10 toddlers in Beijing have made accusations of child abuse against RYB Education Kindergarten
'Naked male'
Parents converged Thursday and Friday outside the Beijing kindergarten (pictured above), demanding answers.
Some said their children, as young as three, had spoken of a naked male adult conducting purported "medical check-ups" on them while they were also unclothed.
"We need clarification," said a father who gave only his surname, Wang. A mother also present described the allegations as "unforgivable."
One father said he had canceled his son's enrolment and demanded a refund.
A Beijing mother whose children do not attend RYB schools, Zhang Yang, said the allegations were alarming because they were being made against a well-known private institution.
Independent verification was not available on the molestation claims against RYB, which was listed on the New York Stock Exchange in September.
Previous scandals
Earlier this year, RYB said it had found "serious mistakes" at another of its Beijing locations and asked its principal to step down.
In 2015, a court in Jilin province found two teachers guilty of physically abusing children at a kindergarten in the city of Siping.
ipj/rt (Reuters, AP)