The delegates voted in favor of Guillier after a long debate on Sunday, with the former reporter winning 67 votes and 36 party representatives choosing Lagos.
While Lagos is not a member of the Socialists, his center-left Party for Democracy is part of the ruling Nueva Majoria bloc. His rival Alejandro Guillier is a left-leaning independent senator who was relatively unknown as a politician until recent months. However, he has since surged in the polls and currently boasts 23 percent support nationwide. Guillier promises to revamp the pension system and restructure education.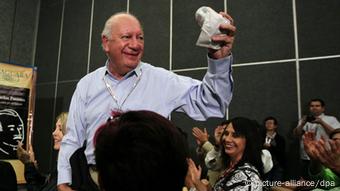 Lagos is considered an establishment, market-friendly candidate
Lagos served as president between 2000 and 2006, but his numbers have stayed abysmally low throughout the current campaign. Last week, the 79-year-old polled at around three percent according to pollster GfK Adimark.
Still behind Pinera
One of Lagos' aides, Carlos Montos, described the Sunday decision as a "historical error" by the Socialists, adding that the delegates were only motivated by Guillier's poll numbers.
Many disappointed voters turned to Guillier in protest of numerous graft scandals and slow economic growth in the South American country. The 64-year-old Guillier also enjoys name recognition as a well known TV reporter in Chile. Even so, he polls behind his center-right rival Sebastian Pinera, a billionaire and another former president, who stands at 27 percent support.
The country's left-leaning and right-leaning blocs are set to hold primaries in June, with the general election set for November.
dj/kl (Reuters, EFE)