Chilean protesters torched public buses in the capital, Santiago, and barricaded streets there and in other cities Friday, during a general strike to demand the end of a private pension system. Introduced by dictator Augusto Pinochet in 1981, Chile's "pension fund administrators" (AFPs) have been held up by pro-market politicians and pundits worldwide as a model for privatized national pension systems.
But with average payments running lower than the minimum wage salary, opponents have said the system has left the 10 million Chileans struggling to make ends meet and falls short of the promise of 70 percent of salaries as promised.
"I'm 70 years old and I worked for more than 40 years for the government. My pension is 300,000 pesos (415 euros, $460) a month," retiree Juan Ugarte told the AFP news agency. "I don't know what the solution is, but no more AFPs."
Authorities reported arresting at least 68 people as protestors tried to march on the seat of government. Tear gas and water cannons were used to repulse the crowd. Nearly 90,000 marched across Chile with 15,000 in Santiago alone, the DPA agency reported.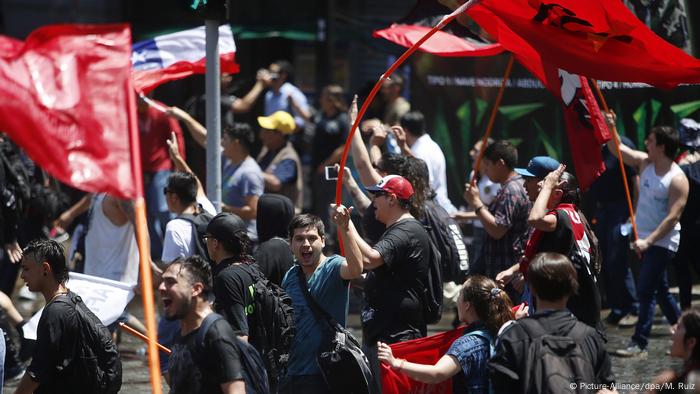 The pension system promised retirees 70 percent of their salaries, but the average worker's pension now falls below the minimum wage
President Michele Bachelet denounced the violence saying it was "not the path for a national agreement" and praising peaceful marches the group has held since July.
Luis Mesina, head of the No Mas AFP movement that called the strike, disavowed the unrest but said it was a sign of the level of people's discontent.
Bachelet recently announced that her government plans to send a bill to Congress seeking to overhaul the pension system. Re-elected in 2013, her center-left government's popularity has suffered due to a corruption scandal involving her son. Her administration recently proposed increasing workers' contribution to the pension fund, angering many in the country and sparking widespread street actions.
Pinochet's dictatorship lasted from 1973 until 1990. Thousands of people were killed or disappeared and tens of thousands tortured by his regime, and his legacy carries heavy political and emotional baggage in the South American country. Chile's constitution and much of its policy framework still date to his 17-year rule.
jar/sms (AFP, dpa)