The forest fire season lasts until April and the country must remain vigilant, President Michelle Bachelet said on Saturday. "[These are] the worst wildfires that Chile has suffered in its history … [but] are now mostly under control," she said. "That doesn't mean, however, that we are letting down our guard."
"We are nearing the end of this mega emergency," Aaron Cavieres, director of the National Forestry Corporation, said. The arrival of rains and falling temperatures have helped stop the fires from spreading.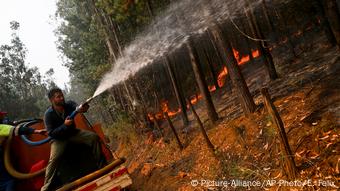 A man works to stop a forest fire in Hualqui, Chile, on Saturday, January 28, 2017
The forest fires have caused about $333 million (309 million euros) worth of damage and have so far killed 11 people, with 1,610 houses destroyed, the Ministry of the Interior said.
According to statistics from the National Forestry Corporation, the flames have blackened over half a million hectares during the current fire season that began on July 1.
The Chilean government said it will now begin reconstruction projects, and Bachelet has appointed Undersecretary Sergio Galilea as special representative for reconstruction to oversee the rebuilding effort.
Since July 2016, more than 5,860 square kilometers (3,641 square miles) of forest and agricultural land have been destroyed by fires, including more than 3,700 square kilometers scorched since the beginning of the year.
jbh/bw (AP, dpa)