Shortly before 8 a.m. the German delegation heads to its meeting room at the conference center in Doha. Some 40 people are gathered around the table, including members of the German environment, foreign, and economics ministries. Parliamentary State Secretary Katharina Reiche sits at the head of the table, while to her right a tall, slim man with dark blond hair sits. That's Karsten Sach, the chief negotiator.
Sach has been leading the German delegation for more than 10 years. "I applied for an international post with the environment ministry, because I felt like doing something different," Sach said. "And now I've been working in international relations for 21 years."
He grew up in a village in the northern German state of Schleswig-Holstein. "I grew up on a small farm. We seldom ventured far from the village," Sach said.
His first international posting was in Brussels. He spent four years working as Germany's representative to the European Union. There, Sach was also in charge of the environment portfolio, when German started its EU Presidency in 1994. Around this time, Sach chaired the EU group on climate change. "That was a huge challenge, and I greatly enjoyed working on it," Sach recounted.
Christoph Bals, head of the environmental NGO Germanwatch, recalled their first meeting. "I think I must have met him at the climate conference in The Hague for the first time," he said. At their first meeting, they "carefully felt each other out," he said. "I knew what he had done before and that he had done some good work in Brussels," Bals said.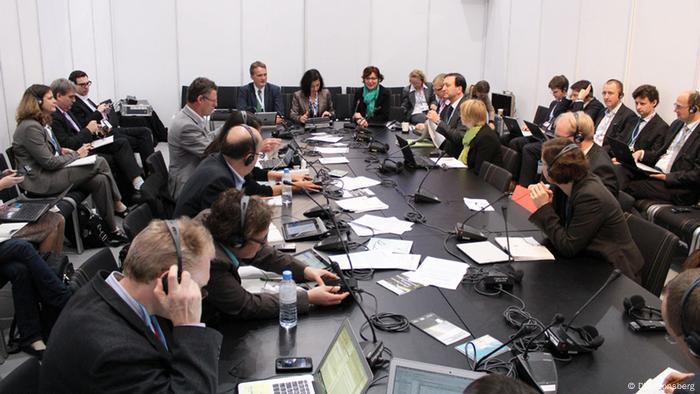 The German Doha delegation includes representatives from several ministries
At a party organized by NGOs, they had their first conversation. "I really liked that he was so open for dialogue," Bals added.
Karsten Sach is convinced that this openness toward others is an essential part of his job as chief negotiator. "You need to be able to put yourself into other peoples' shoes." Sach, who has a law degree, added that "fairness" was also important. "In life, you often see each other more than once."
Sach has a clear, structured and diligent way of talking. He comes across as patient and thoughtful - but the tough climate change negotiations test even his patience. "I hate debating just for the sake of debating. It gets on my nerves when people repeat things for the 10th time because they think the others aren't listen properly." It also annoys him when there are no results, because "procedures provide strong positions for those who drag their feet."
Maybe Sach is referring to Poland. The EU member state is acting to block reducing EU emissions from 20 to 30 percent. Environmental activists, but also German Environment Minister Peter Altmaier, support this step, as the EU is already set to achieve its goals of a 20 percent reduction by late 2012.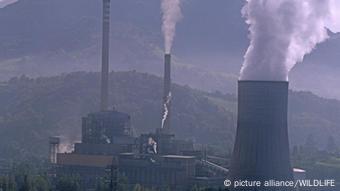 The EU is likely to reach its emission reduction goals ahead of schedule
But Sach remains a diplomat. He respects the fact that different national interests result in differing positions. He gets annoyed at himself when he gets impatient, considering that if he were in that country's position, he might take a similar position.
When Environment Minister Peter Altmaier arrives in Doha on Thursday (06.12.2012), Sach will take on the role of advisor. He has advised such diverse politicians as Jürgen Trittin from the Green Party, Sigmar Gabriel from the Social Democratic Party, Norbert Röttgen and now Peter Altmaier (both from the Christian Democratic Union).
"It would be hard to replace someone with so many contacts, good qualities and such a strategic overview," Bals said. What's more, he sees Sach as calm and non-ideological. "When ministers feel they are being treated fairly and are making the final decision, the relationship is beneficial for both sides," Bals added.
As the climate conference in Doha enters its final phase, 53-year-old Karsten Sach comes off as awake and dynamic. "This is the global climate community that's meeting here. There are some great people here, who have great ideas to advance an extremely difficult process," Sach said of the gathering. He gets a lot of "positive energy" from the talks.
But he admits that that is not the case with every negotiating round. Aside from the psychological strength necessary to deal with all the setbacks and frustration, physical stamina is also important, as many negotiations run all night long. "You still need to try to eat properly and sleep as much as you can."
Sach hesitates when asked whether he is concerned about climate change. "Depending on the predictions, we'll double the amount of goods and services we produce within the next 14 to 18 years," he said matter-of-factly. "I just can't imagine that we'll continue to disregard the environment to the extent that we're doing in many countries."