The bodies of Said and Cherif Kouachi were buried without fanfare over the weekend in unmarked graves about 150 kilometers (93 miles) apart.
Cherif Kouachi (pictured, right) was buried at a cemetery in Gennevilliers near Paris, where he used to live.
"His wife did not wish to take part in the funeral. He did not have anyone. It was extremely calm," a local official told the news agency AFP, adding that the grave was left unmarked to avoid it becoming a "pilgrimage site" for fanatical Islamists.
The local mayor, Patrice Leclerc, blocked a request by Cherif Kouachi's wife for the brothers to be buried together, since Said was not a resident of the area. But he had to allow the burial for Cherif Kouachi to go ahead because under French law people who have lived in a town have the right to be buried there.
Said Kouachi (pictured left), the elder of the brothers, was buried in the city of Reims, where he had lived for about two years. AFP quotes a "well-informed source" as saying his funeral was held under heavy police protection with a small number of family members present.
The lawyer of Said Kouachi's wife said she decided not to attend the burial in order to keep it secret.
"She is now relieved that her husband has been buried with discretion and dignity," Antoine Flasaquier said.
The mayor of Reims, Arnaud Robinet, had initially refused to provide a burial place there, but had to backtrack. Robinet said Said Kouachi was buried "in the most discrete, anonymous way possible."
Terror attack
The Kouachi brothers, both French citizens, carried out the January 7 attack on the Paris headquarters of the satirical news magazine Charlie Hebdo, which they claimed was revenge for the magazine's caricatures of the Prophet Muhammad. They killed 12 people before they were themselves killed days later by French security forces following a siege. They have been linked to terror group al Qaeda.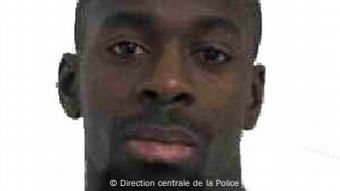 French authorities are yet to confirm a burial site for Coulibaly
A decision is yet to be made on where to bury the third gunman, Amedy Coulibaly, who killed a policewoman and then later four hostages at a Jewish kosher supermarket in Paris. He was also killed in a police raid.
The attacks, which were France' deadliest terror attacks in decades, prompted several European countries to raise security alert levels.
Charlie Hebdo on Wednesday published a "survivors' edition" following the attacks, which featured a cartoon of the Prophet Muhammad on the cover. It rapidly sold out despite a dramatically extended print run. Angry and sometimes violent protests have taken place in several majority Muslim countries in reaction to the new cartoon.
se/jlw (AFP, dpa)