The monument consists of a dark round pool of water with a triangular stone in the middle on which a single fresh flower will be placed each day. The poem "Auschwitz" by Italian Santino Spinelli is engraved around the rim of the pool in English and German. It tells the story of suffering and sorrow of the extermination of half a million Sinti and Roma by the Nazis between 1933 and 1945.
Twelve-year-old Messina Weis, the granddaughter of one of the Sinti survivors led Chancellor Angela Merkel, German President Joachim Gauck and other German dignitaries to the site, where the commemoration ceremony began with a minute of silence.
Chancellor Merkel stressed the crucial importance of living up to the crimes of history and providing a site to mourn and commemorate the victims and to warn coming generations. "That is why we must have appropriate places where that is possible -- where people can also go in the future when the survivors are no longer alive," she said.
The monument, designed by Israeli artist Dani Karavan, is located opposite the Reichstag, the parliament building in central Berlin. It is in close vicinity of two other memorial sites to the Nazi horrors: The field of pillars commemorating the six million Jews who were killed and a smaller monument for gay victims at the time.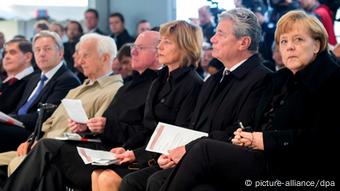 Chancellor Merkel was among the dignitaries at the inauguration ceremony
The German government decided back in 1992 to build the monument, but it got delayed by discussion of the design and cost. It was built with a federal government grant of 2.8 million euros ($3.6 million).
The Nazis saw the Roma and Sinti to be racially inferior, and unleashed a systematic campaign of oppression against them.
An estimated 11 million Roma live in Europe today, around 70,000 of them in Germany. They are the largest ethnic minority in the European Union and still suffer from discrimination especially in Eastern Europe.
rg/hc (afp, epd, dapd)