Real Madrid 1-0 (1-0) Manchester City
(Fernando o.g. 20')
Real Madrid had a number of advantages in Wednesday's semifinal: a 0-0 draw in the opening leg against Manchester City, a home crowd and the return of Cristiano Ronaldo from injury. By contrast City had to deal with an early setback, as defensive boss and club captain Vincent Kompany limped off the pitch injured after less than nine minutes.
For 20 minutes, none of that made any difference as both sides began dozily. Then Daniel Carvajal put Gareth Bale through with a precision pass, and the Welshman squeezed the ball into the top left-hand corner from a tight angle. The shot was deflected, though, and midfielder Fernando was eventually credited with an own goal.
"It took a lucky deflection and went in the top corner," said City keeper Joe Hart after the match. "That's football."
Real remained the better side - thanks largely to a Man City squad that looked as if it was not aware it was playing in a Champions League semifinal. It wasn't until two minutes from the break that the visitors had their first view of goal, but Fernandinho hit the outside of the post. The first half ended 1-0 and left fans of all colors frustrated.
Boring, boring Champions League
If either side were closer to waking up after the restart, it was Real. Luka Modric had a one on one with Hart, and the otherwise invisible Ronaldo got a free header within the first ten minutes after play resumed.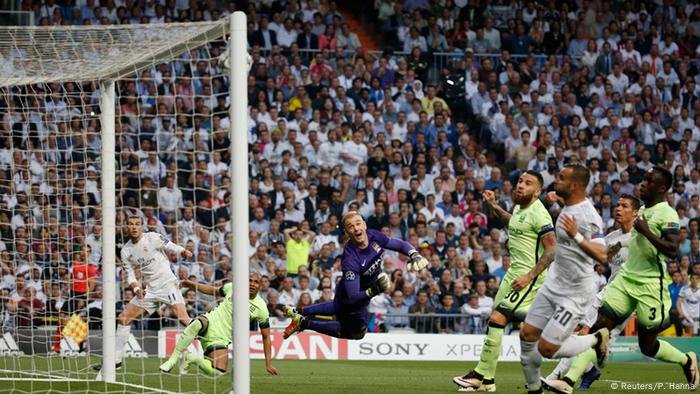 An own goal proved to be the key to the Champions League final
Meanwhile City continued to bide their time with all the intensity of an amateur side. Bale, still searching for his first goal in this Champions League season, headed off the crossbar on the hour mark. City's goose would surely have been cooked, had the ball gone in.
Eventually Real were lulled into passivity, but City showed no signs of punishing their hosts for what, in other circumstances, would have been a display unworthy of the Spanish giants. Two minutes from time, the otherwise anonymous Sergio Aguero narrowly missed over the crossbar. An equalizer would have sent the Mancunians through - and been a thoroughly undeserved outcome.
As it happened, Real killed the clock with ease to book a 1-0 win and a 1-0 tie victory on aggregate.
"The fans were our twelfth man today," Real defender Sergio Ramos said. "They should enjoy the win."
Real supporters certainly did greet the result, even if there were few people applauding the fashion in which it was achieved. Real now face their city rivals Atletico Madrid in the Champions League final on May 28 in Milan. The fixture is a rematch of the 2014 final, in which Real took the title.