Borussia Dortmund 0-3 Juventus (1-5 on aggregate)
(Tevez 3', 78', Morata 68')
The UEFA Champions League anthem blared out at Signal Iduna Park for the last time this season - and possibly for another 18 months.
Carlos Tevez cut through the energetic atmosphere like a knife within three minutes. Then, Alvaro Morata and a second goal from Tevez late on were painful blows on a disappointing night as Italian champions Juventus maintained their unbeaten record in Dortmund, progressing to the quarterfinals with a 5-1 aggregate win.
It was a bitter evening for Jürgen Klopp's team, who were unable to break down the Juventus rearguard despite the visitors playing in second gear. With Dortmund's recent resurgence on the wane in the Bundesliga, qualifying for the Champions League looked out of their reach with Europa League football, perhaps, seen as a hindrance for next year.
The spirit of the club's 1997 Champions League win over Juventus was in the air with the Yellow Wall unveiling a rousing tribute featuring the famous commentary of Lars Ricken's goal in Munich. But the pre-match euphoria came to a nerve-shattering halt as the Italians showed their class right from the start.
Tevez's sharp turn and powerful strike in the third minute popped the bubble and left Dortmund chasing the tie for the remainder of the game. Even with large swathes of possession, the best chances fell for the Italians with Stephan Lichtsteiner forcing a save from Roman Weidenfeller on 14 minutes.
Juventus lost Paul Pogba on 27 minutes as his muscle injury was aggravated, but his absence from the midfield tussle did little to hand Dortmund the advantage. Max Allegri, Juventus' coach, shuffled his pack to a 3-5-2 and the away side continued to look comfortable.
Sucker punch sends Dortmund out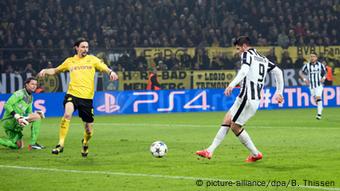 Morata converts the second goal to complete the job for Juventus
With nothing to show for their efforts at the interval, there was always the danger of throwing caution to the wind in the second half. Weidenfeller, who could have done better with Tevez's strike earlier, made two vital interventions shortly after the restart from Morata.
But the former Real Madrid kid wouldn't be deterred as he came back for more on 68 minutes. The Argentine ran in behind the high Dortmund backline and then offered the 22-year-old his second of the Champions League campaign as Juventus roll on to the last-eight for the first time since 2013.
Meanwhile, Barcelona had the better of Manchester City as the Catalans, watched by Bayern Munich boss Pep Guardiola, came out 1-0 winners in a one-sided encounter at the Camp Nou.
The Spanish side, who currently lead their domestic league ahead of this weekend's derby with Real Madrid, added to their 2-1 win in Manchester courtesy of Ivan Rakitic's goal on 32 minutes.