German Central Bank executive Thilo Sarrazin on Monday night defended his controversial book about Muslim immigrants undermining German society.
In a talk show on public television, Sarrazin refused to take back any of his theories amid accusations of instigating hate and proliferating stereotypes.
On the same show, Ayguel Oezkan, a German politician of Turkish origin, said Sarrazin's book served to split society. "You should stop polarizing", the conservative Christian Democrat urged him. Oezkan is minister for family and education in Lower Saxony and the first woman Muslim minster in Germany.
Sarrazin, a card-carrying Social Democrat, earlier on Monday officially launched his book "Deutschland schafft sich ab" ("Germany is doing away with itself") at a press conference in Berlin.
The controversy erupted after excerpts from the book were published in the mass circulation daily Bild last week.
A series of interviews with Sarrazin last week included what many construed as racist comments against Muslims and Jews, causing a storm of controversy.
Sarrazin on Monday repeated his comments concerning Jews, saying "studies show that there are common genetic roots among Jews living today. That is a fact."
He added that this was not to be construed as either positive or negative. He also said Muslims were a drain on European society due to their lower intelligence.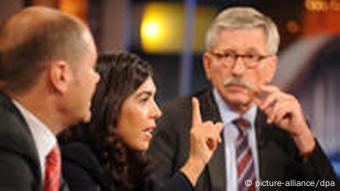 Oezkan (middle) said Sarrazin's book was splitting society
Sarrazin defended himself at the book presentation, saying there was "no value judgment connected with this. It is not a racist statement."
Sarrazin reiterated his beliefs about the threat of Muslim culture to European societies, telling reporters that Germans were in danger of becoming "strangers in their own country." He also demanded stronger checks on immigration.
"All political small-mindedness consists of concealing and glossing over what is," he said.
International attention
What began as a slow-boil domestic controversy has since turned into a full-blown uproar, drawing the attention of journalists from further afield.
Camera teams from Turkey and Arab countries arrived in Berlin for the book launch, while newspapers and broadcasters in France, Israel and Britain have also begun commenting on the story.
At least 150 people gathered outside of the building where the book launch was being held to protest against Sarrazin's remarks.
The increased attention has led the Central Bank to schedule a meeting with Sarrazin to decide his future after Chancellor Angela Merkel said his remarks were damaging to the reputation of Germany and the bank.
Sarrazin also said his ideas should be viewed separately from his current role at the Central Bank, and hit back at Merkel's criticism, questioning whether she even had time to read every page of his book.
Experts doubt whether his inflammatory remarks will be enough to dismiss him. The head of the German Association of Labor Judges, Joachim Vetter, told the Neue Osnabruecker Zeitung newspaper that even if Sarrazin has violated the Central Bank's code of conduct, it would be difficult to fire him over that.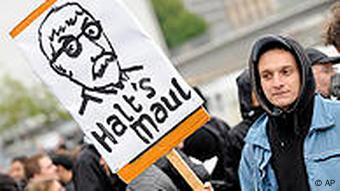 Protesters called on Sarrazin to "shut up"
SPD moves to expel Sarrazin
Meanwhile, Sarrazin's political party, the Social Democrats (SPD), on Monday said it would begin proceedings for the expulsion of their longstanding member over the comments in his new book.
"There is no place for these ideas in the SPD," Ralf Stegner, the SPD chairman in the state of Schleswig-Holstein, told the daily newspaper Tageszeitung. "It would be better if he would resign himself, but I fear that he won't do this."
Sarrazin has vowed to fight on. "I am in a people's party and I will stay in a people's party, because I believe that these issues belong in a people's party," he said. He also invited anyone and everyone "to find discrepancies in my analysis."
Author and sociologist Necla Kelek spoke before Sarrazin, defending him, and calling for the book's issues to be discussed openly.
On Monday, the Westdeutsche Zeitung newspaper wrote in an editorial that "even if most enlightened citizens think his comments are politically incorrect, we should not put a positive spin on the problems: There is a lot going wrong with integration in Germany."
Advance orders have already sent the book to the top of the German bestseller list.
Author: Thomas Sheldrick, Gregg Benzow, Andreas Illmer (dpa/AFP/Reuters)
Editor: Martin Kuebler