Square QR codes typically featured in consumer advertising that take users to a relevant website via a smartphones reader have been appearing on tombstones in recent years. In Asian, and to a lesser degree Danish and Austrian cemeteries, QR codes feature on stone memorials as a way for mourners and visitors to access images and information about the deceased.
While stonemasons armed with a hammer and chisel can usually only include a name and a short salutation on a gravestone, QR codes and related websites are a virtual space where relatives and friends can exchange stories and share photos and memories — and can read the archived funeral oration.
Germans are a little more reticent, however. "We've been talking about QR codes for five years but they haven't really become accepted," said Michael C. Albrecht, who is responsible for media on the board of the Association of German Cemetery Administrators.
Just having a code isn't enough, he cautions. "You have to create and maintain a website, which takes time and effort and skills." Older family members of deceased persons are rarely interested, he says.
Read more: Are German cemeteries dying out?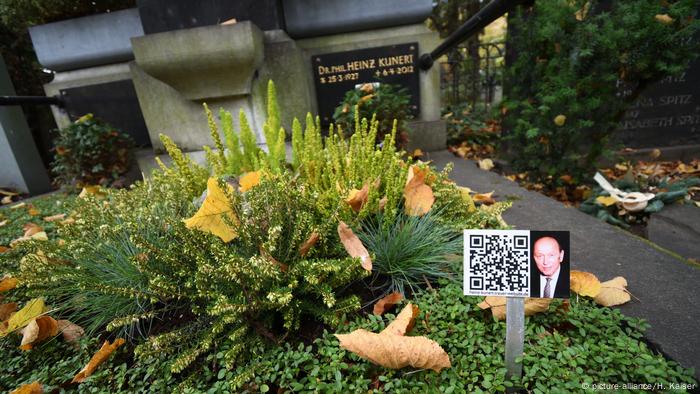 With a quick scan of the QR code, people can learn more about the deceased
Posthumous privacy
Data protection is also an issue. Some cemetery managers feel the QR code could violate new data protection guidelines, according to Gerd Merke, a law professor at Rhein-Main University.
But the consent of the deceased, given of course while they were still alive, is not required to publish posthumous personal data on a headstone.
"Postmortal personal rights exist, but legally they aren't binding," said Merke.
Graveyard apps
While QR codes are few and far between on German grave sites, an app called "Where they Rest" has proven much more popular. Initiated by the Foundation of Historic Graveyards in Berlin-Brandenburg, it shows people the way to the grave sites of celebrities and gives information on their lives.
Currently, the app points out more than 1,200 graves in 45 cemeteries in 32 cities that can be visited in reality or virtually — including Albrecht Dürer's resting place in Nuremberg and the graves of Bertolt Brecht and Johannes Rau in Berlin.
The idea is to use the app with its maps, information, audio guide and anecdotes like a history lesson.
Read more: R.I.P.: German funeral rites and practices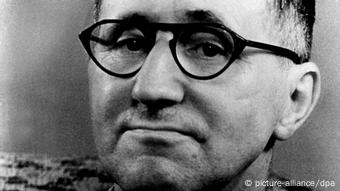 History lesson: The app "Where they Rest" provides more information about writer Bertolt Brecht, who is buried in Berlin
Disturbing the peace?
Visitors meandering across a cemetery, smart phone in hand, are neither disturbing the tranquility of the resting place, says Michael C. Albrecht: "Cemetery culture is not static, it continues to develop."
It's a good thing when people are aware of cemeteries, he says, adding that some old graveyards even offer public tours. Apps, he says, help cemeteries present visitors with "a cultural added value."
Even the Pokemon Go hype two years ago that had people sprinting across cemeteries didn't necessarily bother the managers: "Suddenly, young people were flocking to the cemeteries," said Albrecht.
As long as it doesn't disturb other visitors, Albrecht believes that cemeteries must move with the new technological times. It seems the living can already look forward to a long virtual afterlife.