At 3am on Sunday morning, Malcolm Martorell and his girlfriend Julia Crespo went out onto the streets of their home city of Barcelona. Unlike many 21-year-olds in a city renowned for its nightlife, the pair were not going to a bar or a club. Instead they were off to stand outside their local polling station ahead of Catalonia's disputed referendum.
"We came to protect the polling station, so the police could not shut it," said Martorell when we met in Gracia, a neighbourhood of traditional narrow streets and open squares just north of Barcelona's city centre. It was almost 9am, when the polls are scheduled to open. Despite his tired eyes, Martorell was full of expectations for the day ahead.
"We have got to a point where the most important issue is to have this vote. The result of the elections is not as important as the right to vote," he said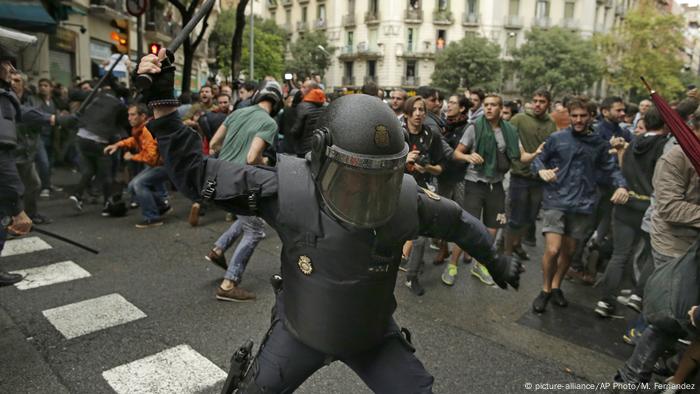 A police officer swings a baton at would-be voters
Unconstitutional referendum
Whether Catalans should be allowed to vote on independence has caused long-running tensions between Barcelona and Madrid. The situation erupted into violence on Sunday, as Spanish police broke up voting in a banned secessionist referendum across a region of some 7.5 million people. Police used batons and rubber bullets at times as they clashed with pro-independence protestors.
Spanish authorities had previously warned that they would not stand aside while the Catalan government held a vote that Madrid had deemed unconstitutional. But many in Catalonia — and internationally — have expressed concerns at the scale of the police response.
Outside polling station, crowds of independence supporters chanted "No Temin Po" ("We are not Afraid") and "Votarem" ("I Will Vote"). By mid-afternoon, around 230 of the more 2,000 polling stations were said to have been closed, according to various police sources.
"There are people here who have lived through the war. Now they feel as though they are living through it again," said Maria Dolores Villacampa who had been waiting for almost three hours to cast her ballot at a polling station near the Ramblas in the heart of Barcelona.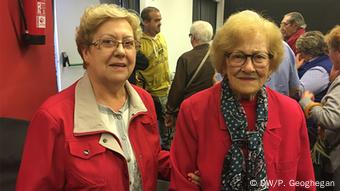 Maria Dolores Villacampa and her daughter voted 'si'
Villacampa, 67, had come to vote with her 94-year-old mother, also called Maria Dolores. Villacampa senior had been undecided about the merits of independence, but Madrid's reaction to the Catalan government's proposed referendum had "made up my mind."
Ahead of Sunday's unofficial vote, the Catalan government predicted that 60 percent of Catalonia's 5.3 million eligible voters would go to the polls in defiance of the Spanish government and constitutional court, which had declared the vote illegal. Turnout is likely to be much lower — if it can be reliably estimated at all.
Uncertain result
On Sunday, Spanish and Catalan police closed hundreds of polling stations across Catalonia. This move is likely to throw any result into serious question, but it could serve to heighten demands for a binding referendum on independence, says Liz Castro, an American writer who lives in Barcelona.
"This is not democratic behaviour. And now the whole world can see that, not just Catalonia," said Castro. "And what's really surprising is Europe has basically said nothing. I thought Europe believed in human rights and voting and democracy."
Read more: Beyond Catalonia: Separatist movements in Western Europe
Catalan leader, Carles Puigdemont, condemned the actions of the national police and Guardia Civil, who were sent into Catalonia in large numbers to prevent the vote from taking place. "The unjustified use of violence... by the Spanish state will not stop the will of the Catalan people," he told a press conference.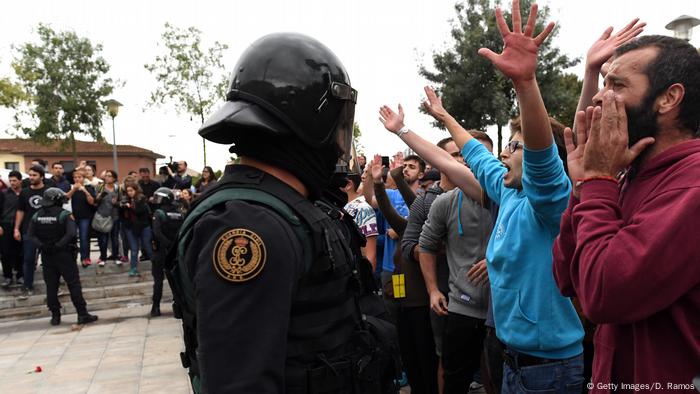 Police move in on crowds who had gathered to keep polling stations open
"A cowardly president has filled our city with police. Barcelona, city of peace, is not afraid," tweeted Barcelona mayor, Ada Colau.
But Spanish Interior Minister Juan Ignacio Zoido has blamed Mr Puigdemont for what he described as the day's senseless events.
International reactions
International politicians condemned the Spanish police intervention in the referendum. UK Labour leader Jeremy Corbyn said "police violence against citizens in Catalonia is shocking."
Scottish first minister Nicola Sturgeon called on the Spanish to "change course before someone is seriously hurt." By 5pm local time more than 440 people were reported injured, one with a serious eye injury believed to have been caused by a rubber bullet.
Even Catalonia's national passion - football - did not escape the effect of the referendum. A number of Barcelona footballers expressed their support for the vote, with Catalan defender Gerard Piqué posting a photo of himself casting a vote.
Barcelona football club has a long relationship with Catalan nationalism. On Sunday afternoon, the La Liga fixture scheduled between Barcelona and Las Palmas was rejected. Las Palmas had opted to add a Spanish flag to their shirt for the fixture.
Read more: Catalonia referendum throws FC Barcelona's future into doubt
Much of the police violence was blamed on the Guardia Civil, a paramilitary police force with a controversial reputation in Barcelona. There were alleged incidents of pushing between Catalan police, the Mossos, and the Guardia Civil, in Sant Joan de Vilatorrada, a municipality around 50km from Barcelona.
The police did not disrupt all polling standards, however. In some areas hundreds queued peacefully for hours to vote, often cheering as they emerged from the polling stations, with arms held aloft.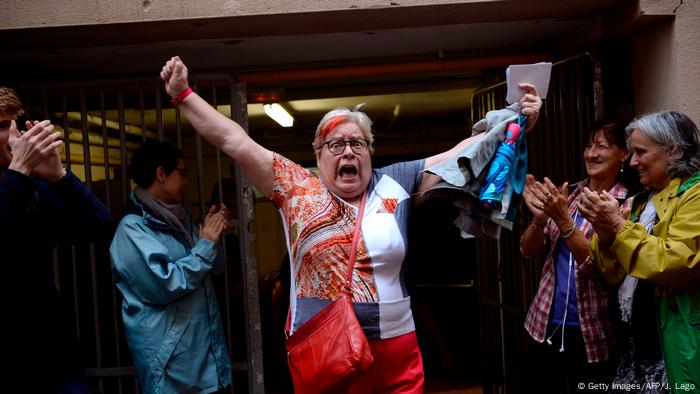 People emerged from polling stations with their arms in the air
Divided opinion
As expected, those who did go out to vote were overwhelmingly pro-independence. But Catalan opinion is far more divided than the the rows of starry Estelada flags hanging from the balconies of Barcelona's winding streets would suggest. At least half the voters would like to remain part of Spain, according to polls.
Read more: Opinion: Spain versus Catalonia — An epidemic of insanity
The pro-nationalist government in Barcelona had said that if Catalans voted 'yes' independence would be declared unilaterally. Whether that will happen is far from clear. But the referendum — and the aggressive response to it from Spanish authorities — seems set to deepen the most serious political crisis Spain has faced since a failed military coup in 1981.
Back in Gracia, childhood best friends Alba Cassells and Alba Suarez had come together to vote 'si' for independence. "It would be better to be doing this with the support of the government," said Suarez. Cassells nodded in agreement. "But the main thing is showing Madrid that this is happening, that we feel this way," she said.