At least three people were injured after a car smashed into the barriers outside the UK's Houses of Parliament in London during rush hour on Tuesday morning. Armed police descended on the scene, removing the driver out at gunpoint. He was arrested on suspicion of terrorism.
"Given that this appears to be a deliberate act, the method, and this being an iconic site, we are treating it as a terrorist incident," London Assistant Commissioner Neil Basu told reporters.
What we know so far: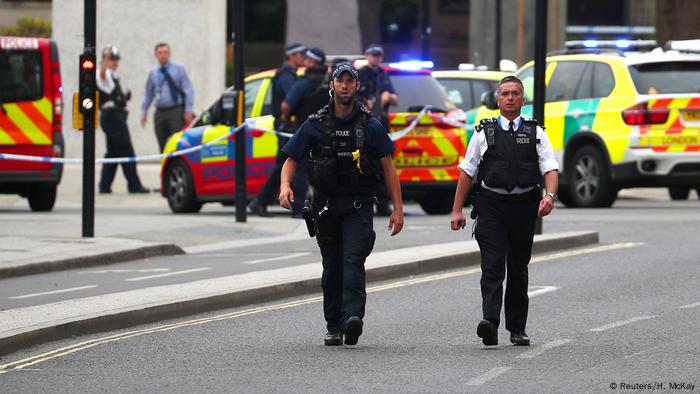 Police and emergency services respond
London's Metropolitan Police force first disclosed that "a number of pedestrians" had been wounded in the incident, before going on to state that none of the injuries were believed to be life-threatening.
The London Ambulance service said it had treated two people on the scene for non-serious injuries before taking them to hospital.
'Thought with those injured, thanks for quick response'
David Lammy, a Labour MP for Tottenham in North London, tweeted: "My thoughts are with all those injured. Thanks for a quick response from @metpoliceuk, Parliament security and the London Ambulance Service."
Conservative Party MP Neil O'Brien posted on Twitter: "Awful news - thoughts very much with those currently receiving medical treatment, and everyone else affected by this. Please remain vigilant if working in/visiting Westminster today."
Terror suspect: The Metropolitan Police said it was treating the incident as a suspected terrorist attack, given the driver appeared to intentionally try to run over pedestrians. The man faces suspected terror charges and remains in custody at a South London police station. No other suspects have been identified, according to the police. The UK has suffered four vehicle-based terror attacks in the past 18 months.
Heightened terror risk in Westminster: The area surrounding the Houses of Parliament was the scene of a violent terror attack in March last year, when Khalid Masood killed four people on Westminster Bridge and stabbed an unarmed police officer to death on the parliament grounds. He was shot dead at the scene.
Police blocks lifted: Immediately after the incident, police closed the Westminster Underground station and blocked off a large area around the parliament, spanning from Trafalgar Square to Lambeth Bridge, in the wake of the incident. Most of the blocks were lifted by Tuesday afternoon, however, and the Westminster was reopened.