Former Pakistani President and retired General Pervez Musharraf is not popular among Pakistan Islamists - to put it mildly. He ousted former PM and popular Pakistani leader Nawaz Sharif in a bloodless military coup in 1999; He received the ire of religious groups becoming an ally of the US in its "war on terror" and the invasion of Afghanistan in 2001. Now, upon his return from Dubai, the general faces death threats from the Taliban and other Islamists, whom he dealt with an iron hand during his ten years of dictatorial rule.
"The Mujahideen of Islam have prepared a special squad to send Musharraf to hell. There are suicide bombers, snipers, a special assault unit and a close combat team," the Taliban said in a video message obtained by Reuters.
The former general also has a bounty on his head, which was placed there by the son of Nawab Akbar Bugti - the Baloch nationalist leader who was assassinated on the orders of Musharraf in a military operation in 2006. A number of cases are pending against Musharraf in courts, including the one in which he is implicated for the murder of former Premier Benazir Bhutto.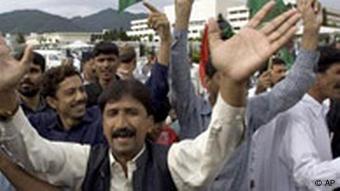 Zardari's PPP defeated Musharraf's allies in 2008 elections
Despite these threats and court cases, on Sunday, March 24, Musharraf came back to the country where he was once considered the "most powerful man." The purpose of his homecoming is to contest parliamentary elections, which will be held on May 11.
Musharraf was impeached by parliament in 2008 after a nationwide lawyers movement to restore Iftikhar Chaudhry, Chief Justice of Supreme Court, who was sacked by Musharraf in 2007 and the assassination of Bhutto turned public opinion against the general. The same year, he left Pakistan for the United Arab Emirates for five years of self-imposed exile.
"Where has the Pakistan I left five years ago gone? My heart cries tears of blood when I see the state of the country today," Musharraf told the media as he landed at the Karachi airport. "I have come back for you. I want to restore the Pakistan I left."
Third force?
But political analysts are skeptical about Musharraf's political role and doubt that his newly-formed political party, All Pakistan Muslim League (APML), will perform well in upcoming elections. Without his military uniform, experts say, Musharraf is like a tiger without teeth.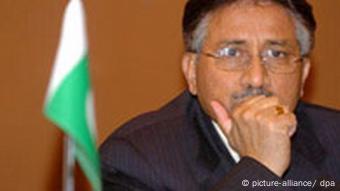 Musharraf left the country in 2008
"I think his presence in Pakistan won't make much of a difference in politics. He is quite marginalized. His political party does not have much influence in the country. But it is his constitutional right to contest elections," Zohra Yusuf, chairperson of non-governmental Human Rights Commission of Pakistan, told DW, adding that the former dictator should be tried in courts for cases against him.
Many in Pakistan and abroad think that Musharraf enjoys backing from the international community as well as from the Pakistani military - otherwise he would not have been able to return to Pakistan.
"I believe Musharraf was able to return to Pakistan after getting guarantees from the international community as well as from the Pakistani establishment," Asim Uddin, a London-based Jamaat-e-Islami activist and researcher, told DW. "Musharraf thinks he can present an alternative to the Pakistani people who are unhappy with President Asif Ali Zardari's People's Party and Sharif's Muslim League. But I don't think he is that third option people are looking for."
Uddin said the former dictator should be tried but doubts that the ubiquitous Pakistani military would want its former chief to appear before the courts.
A 'liberal dictator'
But Musharraf has loyal supporters in Pakistan too. They say that during Musharraf's time in power, Pakistan's economy prospered and the security situation was also quite good. In the southern port city of Karachi, which is also the financial capital of Pakistan, a lot of educated and liberal people are nostalgic about Musharraf's era.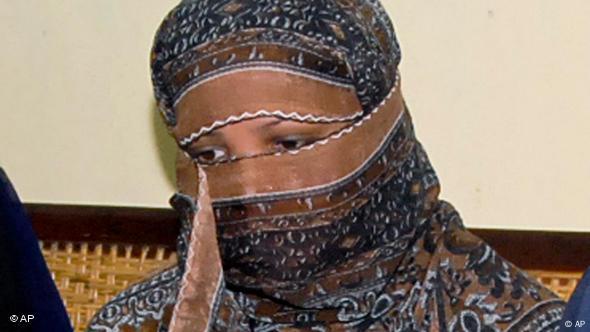 Asia Bibi, a Christian woman, was sentenced to death for blashemy in 2010. Musharraf had tried to repeal blasphemy laws
"Musharraf was a much better leader than Zardari," Syed Meer, an entrepreneur in Karachi, told DW. "There was more investment in his era, and our businesses were flourishing. There was no energy crisis. I know he was a dictator, but what is the use of this democracy when people have no jobs and nothing to eat," he questioned.
Junaid Ahmed, a musician who lives in Karachi, said that Musharraf's biggest achievement was to act against the Islamists and ban radical organizations in the country. "Pakistan was more liberal during his time. He allowed cultural activities in the country and I don't think there was any better era in the history of Pakistan for musicians and artists than Musharraf's," Ahmed told DW.
Experts say that Musharraf enjoys considerable support in some urban areas but to succeed in parliamentary elections in May, he will need the votes of rural Pakistanis who make up 70 percent of the population. That part of Pakistan, analysts say, is not interested in Musharraf's international stature or his "liberal" values.