Human trafficking continues to be a major problem in Cambodia, with a number of men, women and children subjected to forced labor - in factories, on farms and fishing vessels - as well as sexual exploitation.
For instance, the 2016 Global Slavery estimates 256,800 people or 1.65 percent of the Southeast Asian nation's around 15 million-strong population to be living in conditions of modern slavery, which includes forced labor, debt bondage and forced marriage.
Although the country has seen some improvement in recent years following efforts by the government and civil society organizations, it remains difficult to eliminate the practice.
In an interview with DW, Lim Siv Hong, senior program officer and an expert on the subject, says the increase in undocumented migration as well as the limited ability of law enforcement agencies, are the main reasons behind the failure to curb human trafficking in the region.
DW: Despite some progress in recent years, the problem of human trafficking continues to be widespread in Cambodia. What are the reasons behind this?
Lim Siv Hong: There are two main reasons behind the high prevalence of human trafficking in Cambodia.
One is undocumented migration in the face of growing economic opportunities abroad, with many Cambodians seeing better opportunities in countries like Thailand, Malaysia and South Korea. This has prompted many to take great risks to migrate overseas either through personal networks or using recruitment agencies to find jobs abroad.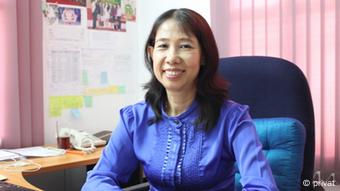 Siv Hong: 'Challenges remain in terms of effectively and timely responding to reported cases and ensuring victims are protected and justice is delivered'
Although the job opportunities seem promising, the incidences of labor and sexual exploitation are not often reported, and there's no official data to accurately represent the scale of this issue.
But anecdotes indicate the severity of people being exploited and trafficked, particularly when it comes to males working on fishing vessels or cases of female domestic workers being exploited and abused in Malaysia.
The other reason is the limited ability of law enforcement agencies to protect those vulnerable to abuse and exploitation. The prosecution of perpetrators in TIP-related cases remains ineffective and it faces even more challenges in cross-border cases. The whole legal process takes years, with no guaranteed outcome that will meet victims' expectations.
Still, Cambodia's status was upgraded to tier 2 in the US State Department's Trafficking in Persons report for 2016. The improved ranking indicates the Cambodian government is making efforts to comply with minimum standards when it comes to combating the problem of human trafficking.
Nevertheless, trafficking in persons (TIP) is a universal issue, regardless of a country's economic status. Combating TIP is an ongoing effort, requiring sustained commitment, true political will, and a strong and functional coordinated body comprising of key stakeholders.
What steps are put in place by the government to combat the problem?
The Cambodian government's commitment to combat trafficking is high - the government has established a national mechanism and legal framework to combat TIP, but the enforcement of those policies is still very limited.
Challenges remain in terms of effectively and timely responding to reported cases and ensuring victims are protected and justice is delivered.
Furthermore, there hasn't so far been any concrete government action or policies when it comes to making legal migration more affordable, faster and reliable.
There are also cases of those who migrate legally (such as going to work as domestic helpers in Malaysia) yet still face abuse and exploitation - these incidents cast doubts over whether even legal migration can truly be protected from exploitation.
However, many criticize that the government's measures are not yielding the desired results. What is your take on this?
While the overall situation has improved slightly, more needs to be done to effectively counter the problem. Tackling TIP issues is an ongoing effort, given the increase in cross-border migration from Cambodia to neighboring countries as well as tourism coming to Cambodia.
Furthermore, steps have to be taken to improve law enforcement.
Based on my observation, I can say that the prevention efforts have truly contributed to improve people's understanding and awareness of situations of and consequences of trafficking, and what to do should they become trapped in trafficking.
Prevention activities and communications campaigns have led to more people being aware of this issue and seeking assistance in trafficking cases. As labor migration increases (it is estimated that about 1 million are now working in Thailand alone), and as people understand their rights better, the number of reported cases are believed to have increased.
What more, in your view, should the government do?
In responding to the quickly evolving dynamics of human trafficking within and across borders in Asia, we recommend a three-pronged strategy that includes prevention, protection, and prosecution measures.
Our approach, across Asia, considers the distinct ways in which women, men, girls, and boys are vulnerable to and experience different forms of trafficking, and advocates for strategies to address the specific needs of vulnerable populations.
The Cambodian government should further strengthen governance of labor migration and continue improving responses by effectively implementing policies and regulations already in place - including improving the nation's criminal justice system, creating a functional database that can keep track of the victims and providing better protection to migrant workers, among other things.
What should be done to ensure that the rescued people will not again become victims of trafficking?
It's important to empower victims and give them hope. That will minimize incidences of their being trapped in trafficking again. In addition, good counseling is a key factor in the rehabilitation process, as it brings hope back to the victims and helps them to normalize their lives and plan their future.
It's also important to equip the victims with skills required to secure better livelihood opportunities and get rid of social stigmatization. Moreover, there's a need to create a community support system that will provide continuous socio-economic support to the victims.
How important is the rehabilitation process for the victims?
Rehabilitation for the victims is very costly and time consuming - it requires a careful process of proper planning and consultation with the victim, making sure they are fully informed about their rights. Assistance for the victims' recovery from trauma and anxiety must be made available to them as soon as possible.
However, in reality, the rehabilitation process in Cambodia is entirely reliant on NGOs. Some NGOs are working to refine their support and make their services more responsive to the victims' needs. But there are still challenges in making sure that appropriate skills training is offered to the victims, and that it is helpful in securing a job to independently earn a decent living as well as support their family.
So the government should work towards providing better rehabilitation and support services for the victims.
Lim Siv Hong is a senior program officer and social development specialist at the Asia Foundation's office in Phnom Penh.