Accusations of anti-Semitism have hounded former Pink Floyd frontman Roger Waters for years. In the latest instance, a citizen of Cologne wrote to the general director of regional public broadcaster WDR requesting they revoke their support for Waters' "Us + Them" concert, to be held on June 11, 2018.
"I do not want to resign myself to the new hatred of Jews here, I'm sick of it," said Malca Goldstein-Wolf in an interview with newspaper Bild. Her call to boycott the singer was accompanied by a petition signed by over 1,300 people, according to the newspaper.
Accusations of anti-Semitism have plagued Waters for years after he became a prominent supporter of BDS (Boycott Divestment and Sanctions), a non-violent movement to oppose Israel's occupation of the West Bank.
The accusations grew after balloons in the shape of a pig adorned in the Star of David were released at Waters concerts in 2013 — though he countered that several political and religious symbols had been used.
As a BDS supporter, Rogers has declined to perform in Israel, with he and Brian Eno recently criticizing Nick Cave for playing two shows in Tel Aviv.
Read more: Anti-Israel musicians boycott Berlin music festival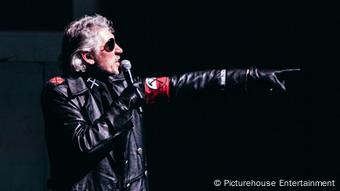 Waters took center stage in the 2015 film, "The Wall"
A divisive political message
The "Us + Them" tour to support Waters' latest album, "Is This the Life We Really Want?," has scheduled dates between May 14 and June 13, 2018 in Hamburg, Vienna, Berlin, Mannheim, Cologne and Munich.
Waters' new album has likewise caused a stir due to the singer's Trump-bashing and love for conspiracy theories.
The show, which opened in the US last May, was expected to draw fans, thanks in large part to a program largely filled with classical Pink Floyd hits. It is ranked seven in the Top 20 Global Concert Tours poll, with an average ticket price of $119 (€100) and gross box office receipts of $2.2 million.
In an e-mail to Goldstein-Wolf from WDR's General Director Tom Burhow, the decision to end the broadcaster's support for Waters was made clear. "The cooperation with this concert has been discontinued."
ct/eg (dpa, KNA)