As of July 7, the weed killer's main ingredient - glyphosate - will appear on a list of potentially cancerous chemicals and a year later the listing could come with warning labels on the product, the state's Office of Environmental Health Hazard Assessment (OEHHA) said on Monday.
State health regulators must also decide if there's a high enough amount of the chemical in Roundup to pose a risk to human health.
"We can't say for sure," said Sam Delson, a spokesman for OEHHA.
The World Health Organization's International Agency for Research on Cancer said that it is "probably carcinogenic" in a controversial ruling in 2015.
Monsanto up in arms
Monsanto - the chemical's maker - filed an appeal after losing in court to block the labeling. It vowed to continue its legal fight against the designation, required under a state law known as Proposition 65, and called the decision "unwarranted on the basis of science and the law."
Scott Partridge, Monsanto's vice president of global strategy, said in a statement that glyphosate does not cause cancer and there's no need to list it as harmful in California.
"This is not the final step in the process," Partridge said. "We will continue to aggressively challenge this improper decision." Monsanto has not calculated the cost of any re-labeling effort and does not break out glyphosate sales data by state, Partridge said.
Glyphosate has no color or smell. Monsanto introduced it in 1974 as an effective way of killing weeds while leaving crops and plants intact. It is sold in over 160 countries and farmers use it on 250 types of crops in California, the nation's leading farming state.
Meanwhile, Dicamba, a weed killer designed for use with Monsanto's next generation of biotech crops, is under scrutiny in Arkansas after the state's plant board voted last week to ban the chemical.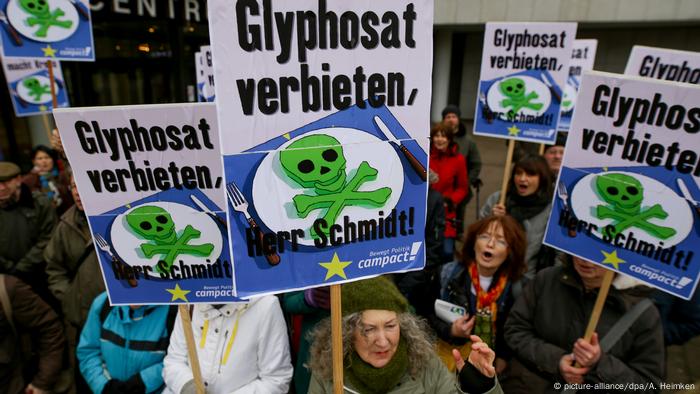 A demonstration in Hamburg, Germany, against the use of glyphosate in 2016.
EU next
Over a million people have so far signed a petition demanding the EU ban the Monsanto weedkiller glyphosate over fears it causes cancer.
The petition comes as the EU is deciding whether to renew the license of the controversial herbicide produced by the US agro-chemicals giant. The 28-nation EU will formally decide in December whether to extend the license for glyphosate.
jbh/rd (AP, Reuters, AFP)