Bombs or sausages?
It is questions like this that German companies face everyday in their business with Iran.
Many products can be delivered without problem, but key technology that can used for military or nuclear projects, or even things that can be used in the gas and oil industries, fall under embargoes.
But the considerations are seldom black and white.
A screw mixer, for instance, can be used in the production of sausages, but it can also be used to make explosives.
Frozen assets
Then there is the issue of Iran's frozen assets.
Firms are banned from trading in any capacity with companies that are closely associated with the Iranian government.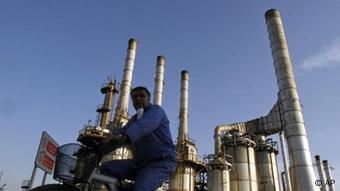 Who do sanctions hit - Iran or European profits?
"And it's up to the German companies to check whether their clients are affected by this rule," says Volker Anders at the German Federal Agency for the Economy and Export Control (BAFA).
But this can be hard to determine because some companies, which are blacklisted by the EU, simply close and start up again under new names.
It has forced many German companies to err on the side of caution and have every business transaction - even those that seem unproblematic - certified by BAFA.
The process can take a few months and in some complicated cases more than a year - such as in the case of the screw mixer.
Fear among banks
"Many companies have withdrawn from business with Iran altogether," said Michael Tockuss, director of the German-Iranian Chamber of Industry and Commerce, which represents about 130 German firms.
Finalizing transactions has also become a problem because most banks refuse to get involved.
According to Tockuss, only about ten banks in central Europe will entertain the idea.
"But we don't disclose which banks they are, not even to our members," he said, "because the American finance ministry will do all it can to dissuade banks from such business."
Pressure from America may also be felt by the firms themselves.
The German carmaker Daimler ended all of its business and closed its office in Tehran last March, even though only one aspect of its product line, three-axle trucks, was hit by current sanctions.
Daimler has declined to confirm whether it had come under pressure from the US, saying instead that "international political developments" had influenced its decision.
While it is estimated that German exports to Iran in 2011 contracted by 20 percent, the Federal Statistical Office says exports dropped in the five previous years from 4.4 billion euros (US$5.7 billion) to 3.8 billion euros.
But some industry representatives complain that without sanctions business would have increased massively.
Calls for stronger controls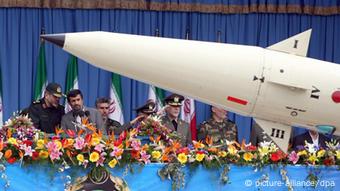 Despite sanctions, Iran can access all the technology it wants
Despite these problems, Germany remains Iran's biggest western trading partner, lagging only behind the United Arab Emirates (UAE), China and South Korea.
"A large proportion of Iran's technology comes from Germany," said Jonathan Weckerle of the "Stop the Bomb" initiative, which campaigns for a hard line against Iran.
"Ever since companies like Siemens withdrew, it's primarily been small and medium-sized enterprises (SMEs) that have maintained significant links."
Weckerle says BAFA's control over business with Iran is too lax.
He points to a case in which BAFA authorized the export of technology that was destined for use in the development of an Iranian gas field - even though one of the beneficiaries was a blacklisted company, run by Iran's powerful Revolutionary Guard, which had set up a new sister company explicitly for the deal.
Weckerle raised his concerns with the agency, but the deal went ahead. He suspects that BAFA, which declined to respond to the accusation, has yet to employ any Iranian specialists.
Export detour
Some transactions that are stopped within Germany may still find a way to Iran.
The country has in the past sourced what it wants and needs via other routes, such as Dubai in the UAE, where a number of Iranian companies are registered. And where Dubai fails, Malaysia has stepped into the breach.
"The Iranians are very talented in such things," said Michael Tockuss of the German-Iranian Chamber of Industry and Commerce, "you can find all kinds of high-technology from the US in Tehran - whether that's Apple computers, construction machines from Caterpillar, or high performance guidance software by Novell."
And as far as Tockuss is concerned, sanctions have been ineffective.
"In the first instance, it's the German companies that are hit by the sanctions," Tockuss said.
Rather than lift sanctions, however, activist Weckerle says current measures need to be strengthened and expanded.
The EU plans to do just this when foreign ministers from the bloc meet on Monday (23 January) to discuss a ban on Iranian oil imports.
But some, like Weckerle, would prefer to see a complete trade boycott.
Author: Dennis Stute / za
Editor: Kyle James