Burundi's opposition on Saturday slammed the CENI election commission for deliberately steering the country towards a controversial presidential vote next month, branding it a tool of President Pierre Nkurunziza and his ruling party.
The rushed appointment of two new members to the CENI commission was "a government-orchestrated sham to put in place a CENI totally subservient to Nkurunziza and his party", said Jeremie Minani, spokesman for the Arusha Movement, a coalition of opposition and civil society groups.
The criticism came after the upper and lower houses of parliament - both dominated by the ruling CNDD-FDD party - overwhelmingly approved the two new election commissioners earlier in the week. Annonciate Niyonkuru and Alice Nijimbere, both 38-year-old women from the Tutsi ethnic minority, took up their posts immediately after their appointments were approved by 81 votes to one in the National Assembly and by 31 to two in the country's Senate.
They are intended to replace two previous commissioners who fled the country amid the political crisis and street protests that have unsettled Burundi since late April. One of the two commissioners who escaped Burundi was CENI's vice president.
Third term lucky?
The controversial CENI commission is responsible for overseeing polls in the troubled country where President Nkurunziza's bid for a third term has sparked weeks of clashes between police and protesters. The unrest has so far left about 40 people dead and scores more injured, mostly in the capital Bujumbura, while more than 100,000 people have fled the country.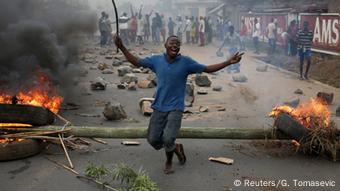 Protests have left parts of Burundi devastated
Nkurunziza's opponents say he is violating the constitution by seeking a third term, and breaking a peace deal that had ended a protracted civil war in 2005. But the president cites a constitutional court ruling saying he can run for another term. The CNDD-FDD has released a statement welcoming the approval of Nkurunziza as a presidential candidate and has appealed to opposition parties not to pull out of the election.
Parliamentary elections have been slated for June 29, along with the presidential poll in July, after being delayed following weeks of demonstrations, a violent police crackdown and a failed coup attempt by parts of the army. Since weathering the coup attempt, Nkurunziza has faced down international pressure, including a string of foreign aid cuts, aimed at forcing him to reconsider his attempt to stay in power, which diplomats fear could plunge the country back into war.
ss/bk (Reuters, AFP)