Everything seems normal as children in red clothes play football on a dusty patch. However, this patch is the courtyard of a monastery and the young players with their rolled-up shirts and bare arms are Buddhist novices. Their teacher, U Nayaka, laughs at the notion that a monastery is supposed to be a place of meditation. "It is never quiet here, my students always make noise," said Phaung Daw Oo, director of the monastery school, who is a cheerful person and ends each of his utterances with a laugh.
Since 1993, Nayaka is providing education to children whose families would otherwise not be able to afford to send them to school. The school started with 400 students, who number around 8,000 today, with 450 of them living on the premises. Boys and girls, farm boys and street children, some are monks while others are not – even some Christians and Muslims are being taught in this school, says Nayaka with pride.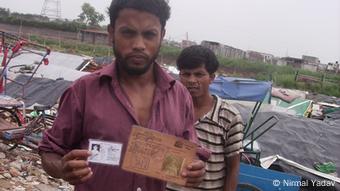 The Rohingyas have been taking the brunt of the hate campaign
"The Buddhist way of thinking is to think critically" – Nayaka is very clear about that and wants to implant it in his students. His school receives aid and support mainly from countries like Japan, Australia, England and Germany. The girls' dormitory was built a few years ago by the the Friends of Myanmar association of Germany, with financial help from the German government.
Several international volunteers are working at the school. Their objective is to teach critical thinking to the students, of which the peaceful coexistence of religions forms an integral part, Nayaka is convinced.
For the protection of race and religion
The monk U Maung Maung is not in favor of the coexistence of religions. His association, Ma Ba Tha, advocates "the protection of race and religion" with the objective of saving Buddhism from the perceived potential threat of Islam. The hatred is primarily directed against the Muslim Rohingya ethnic minority who live in Rakhine State along the borders with Bangladesh, and who do not possess the Myanmar citizenship.
According to Ma Ba Tha "the Bengalis" have no place in Myanmar. "They commit severe crimes," Maung thunders in his monastery on the outskirts of Yangon, Myanmar's economic hub. "They rape and try to marry as many of our women as possible," he rails.
Ma Ba Tha and their followers fear that the Muslims want to Islamize Myanmar. About 90 percent of the 51 million inhabitants of Myanmar are Buddhists; only about five million are Muslims.
Special law to marry Buddhist women
Ma Ba Tha's phobia is shared by radical monk Ashin Virathu, the brain behind the so-called "969" movement. Virathu has been described as "the face of Buddhist terror" by international media. For years, his followers have been running a campaign for the boycott of Muslim shops. They put stickers with their logo on buildings which should remain in Buddhist hands, in their opinion. And now their propaganda is about to find its way into legislation.
President Thein Sein had submitted a package of proposed legislation by December, with the aim of turning them into law before the presidential elections scheduled to take place in autumn.
These laws are supposed to serve "the protection of race and religion," but Amnesty International has criticized them as being "discriminatory" and "contrary to fundamental human rights."
One bill stipulates that a change of religion will only be possible after the application has been approved by the appropriate authorities. This will also apply to Buddhist women desirous of marrying a spouse from another religion.
Whether permission will be granted or not will be decided by a local body consisting of government officials and community leaders. Amnesty also criticized the proposed monogamy law as malicious propaganda, since polygamy is already forbidden in Myanmar.
'A handful of monks'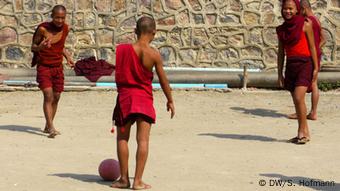 Buddhists and Muslims have lived in peace for centuries in Myanmar
The Mogul Shiite Mosque, the biggest in Yangon, is located on the 30th Street of the Padeban township. The mosque was built towards the end of the 19th century by wealthy Persian merchants who had settled in Myanmar. Up to 300 Muslims gather here for their Friday prayers.
Buddhists and Muslims have lived in peace for centuries in Myanmar, but attacks against the Muslim community have been increasing of late, a situation which makes Imam Bakr Mohammedi of the Mogul Mosque feel less upbeat.
"It's just a handful of (Buddhist) monks who preach hate and violence in their sermons," Mohammedi says, "but that is enough to cause riots in certain parts of the country." The situation is not so acute in Yangon, "but the violence in Rakhine State has caused concern among the Muslims here as well." Muslims are fleeing in greater numbers from other parts of the country to Yangon, according to the Imam.
Liberal monk Nayaka is not prepared to talk about the firebrand monk Virathu. Nayaka's own monastery is not very far from Virathu's Maseyein monastery. Nayaka is well acquainted with Virathu and his ideas; nevertheless, Nayaka would prefer not to comment upon them, despite the fact that he does not seem to lack courage.