All updates in Universal Coordinated Time (UTC)
Federal prosecutors identify two brothers from Brussels - Khalid and Brahim El Bakraoui - as responsible for carrying out Tuesday's attack on the international airport and Malbeek metro station in central Brussels.
16:25: Bart De Wever, head of the Flemish separatist party N-VA and mayor of Antwerp, has spoken out in anger that "those people, who were born here […] and treated well their entire lives" were still "capable of such acts." He also criticized the community that gave them the support necessary to succeed with their plans, rejecting the view that Belgian society could have done more to help disaffected youth. De Wever was speaking with Flemish broadcaster VTM.
16:03: Extra security measures are in place at Brussels' train stations, with police controlling access and searching passengers. Travelers are facing considerable delays, as seen in this tweet from police in the district of Ixelles:




The public transportation service in Brussels (STIB-MIVB) has been running on reduced service, with two out of the four metro lines closed and insufficient personnel for buses and trams. Earlier, STIB-MIVB announced that the metro would close from 7 p.m. local time.
15:09: Belgian Prime Minister Charles Michel and French PM Manuel Valls have addressed the media, with Valls saying that "Europe and European values were hit when Brussels was attacked yesterday." He added that "we must be strong and united, and not abandon our values."
Belgian Foreign Minister Didier Reynders has said that "we must defend our liberties and our way of life."
14:54: Belgium's royal couple has met with emergency workers at the Brussels Zaventem airport. King Phillipe paid tribute to the victims and praised the work of the first responders.
14:50: DW's gallery showing gestures of solidarty with Brussels from around the globe.
14:25: EU interior ministers are planning an emergency meeting "as soon as possible, in the next two days perhaps," EU Migration Commissioner Dimitris Avramopoulos said.
14:23: Belgian media is reporting that the attack at the Brussels airport could have been much more deadly. Apparently, the taxi company that brought the suspected attackers to the airport misunderstood their request for a van, and instead sent a smaller vehicle. This miscommunication forced the men to leave some of the explosives behind - including a powerful bomb which was later found and destroyed by police in an overnight raid in the district of Schaerbeek.
14:19: The Belgian football federation has accepted an offer from its counterpart in Portugal to move Tuesday's soccer game from Brussels to the Portuguese city of Leira. The Belgian federation reached the agreement hours after announcing the cancellation of the friendly match planned at King Baudouin Stadium in Brussels.
13:45:The body of yet another victim has been found at the Brussels airport, bringing the death toll to 32, Belgian media reports.
13:40: Paris Mayor Anne Hidalgo observed a minute of silence in Brussels.
"Yesterday, Paris was wounded, today Brussels is wounded," she said. "Paris and Brussels are one - there is a friendship between our two cities and our people. I'm here today to pay my respects to the victims and their families."
13:18: Germany's foreign ministry confirms that German citizens were among the injured. But the ministry says it's still unknown whether any Germans were killed. "We must unfortunately confirm that German citizens are among the injured in the terror attacks, among them at least one seriously injured person," an unnamed ministry official said, according to the Reuters news agency.
13:10: Poland says it's backing out from its committment to take 7,500 refugees, citing the Brussels attacks. Prime Minister Beata Szydlo says she does "not see any possibility for refugees to come to Poland" in the wake of the attacks, according to Polish broadcaster Superstacja.
12:55: Germany's interior ministry says there's no German connection to the Brussels attacks. "I can disclose no German connection," ministry spokesman Johannes Dimroth told reporters in Berlin. "It also remains that a link cannot be ruled out given the dynamic situation in Belgium." Separately, German police say they arrested three people in a car with a Belgian license plate near the border with Austria and were investigating whether they had planned to carry out an attack.
The three suspects from Kosovo were arrested Tuesday, after a tip-off before the Brussels attacks.
12:44: The unexploded bomb recovered at the Brussels airport was the most powerful one prepared for the attack, Belgian federal prosecutor Frederic Van Leeuw says. The bomb was apparently abandoned by a suspect who is still on the run.
"His bag contained the most significant explosive charge," Van Leeuw told reporters. "Shortly after the arrival of the army's bomb disposal unit, this bag exploded because of the explosives' great instability."
12:33: One suspected bomber is on the run, contradicting earlier media reports. Brahim El Bakraoui, a 29-year-old Belgian national, was identified by his fingerprints. A second suicide bomber still has to be identified. "The third suspect, wearing a light-colored jacket and a hat, is on the run," Federal Prosecutor Frederic Van Leeuw added. "He dropped off a big bag, then left before the explosions."
12:29: Federal Prosecutor Frederic Van Leeuw tells reporters that overnight raids in the northern district of Schaerbeek uncovered the following: detonators, a suitcase filled with nails and screws, bomb-making equipment and around 15 kilograms (33 pounds) of explosives. He said that 31 people were killed in Tuesday's attacks, with 270 people injured. He also confirmed that the threat level would remain at level four, the highest level, for the time being.
12:24: Federal prosecutors say a computer containing a will written in haste by suspected bomber Brahim El Bakraoui was found in a trash can at the airport. In the document the man appeared distraught and confused. "I don't know what to do," he reportedly wrote. He also wrote that "he did not want to end up in a cell next to Salah Abdeslam," the suspect arrested in the district of Molenbeek on Friday and now being held in a high-security prison in the Belgian city of Bruges.
12:18: Federal prosecutors confirm 27-year-old Khalid El Bakraoui of Brussels as identity of suicide bomber who struck Malbeek metro station, killing around 20 people. His brother, 30-year-old Brahim, was identified as the suicide bomber that struck the airport. Two other suspected attackers remain unidentified.
12:07: The US State Department has said not all US citizens have been accounted for in Brussels since the attacks. CNN reports there are still no confirmed US deaths. Officials in Washington estimated "a dozen or so" Americans are among the injured.
11:45: DH and RTL Info, the media outlets that announced the arrest of fugitive Najim Laachraoui earlier this morning, have retracted their statements. The man arrested is apparently not Laachraoui, explained DH, but is still suspected of having participated in Tuesday's attacks.
11:43: The Belgian football federation has canceled a soccer match between Portugal and Belgium slated to be held Tuesday in the King Baudouin stadium in Brussels. The Belgian national team has also canceled trainings in the wake of the attacks.
11:26: A moment of silence has been held across Belgium, with Belgian Prime Minister Charles Michel, King Philippe, Queen Mathilde and EU representatives taking part at numerous sites across Brussels, including the airport and metro station where the attacks took place.
11:22: The suspect arrested this morning in the district of Anderlecht is refusing to identify himself, according to French broadcaster BFM TV. He resembles the suspect Najim Laachraoui, but officials are going ahead with DNA analysis to confirm his identity.
11:15: Brussels airport has announced that flights have been cancelled on Thursday as well.
11:14: French Prime Minister Manuel Valls has insisted that the Euro 2016 football tournament go ahead. "The big popular events are indispensable in showing that we are a free people, on our feet, that we aren't scared," Valls said. France is due to hold the tournament in June.
11:09: Sven Mary, the lawyer for Salah Abdeslam, has said he will continue to defend the terrorist suspect, despite reports in the Flemish newspaper "Het Nieuwsblad" that he had reconsidered following Tuesday's attacks. "I never said that [I would stop defending him]," Mary told the Belga news agency. "But had I known [about the attacks], I may not have even taken on the task."
11:07: The Dutch consulate in Istanbul has been evacuated due to a "possible terror threat," the Netherlands foreign ministry said in a statement. It urged its citizens to avoid the area near the consulate on Istiklal Street, the scene of a deadly suicide bombing over the weekend.
11:05: Twitter users in Belgium and abroad have been tweeting their support. The hashtags #JeSuisBruxelles, #tenirbon, #WeerbaarBelgie and #bruxellesmabelle are trending, and images of Brussels' famed Manneken Pis and comic reporter Tintin have dominated the response.
The image of a typical Belgian sandwich known as the "mitraillette," or machine gun, has also been popular, with people writing that they prefer their version.
11:00: Large crowds have gathered at Brussels' Place de Bourse to observe a minute's silence, which was followed by applause.
10:59: More details on the background of Najim Laachraoui. Belgian investigators say the 25-year-old traveled to Hungary under the alias Soufiane Kayal with Paris attacks suspect Salah Abdeslam.
Laachraoui is also believed to have travelled to Syria in February 2013. And traces of DNA from Laachraoui were found on the explosives used in the gun and suicide attacks in Paris, a source close to the French investigation said earlier this week.
10:54: The events in Brussels have reignited debate over the use of torture by the United States government. Donald Trump, the front-runner for the Republican nomination to succeed Barack Obama in November's US election, suggested suspects could be tortured to avert such attacks.
10:51: The death toll has risen to at least 31 with some 260 wounded, Health Minister Maggie De Block said on Belgium's VRT television. She said this number could rise further because some of the victims at Maelbeek metro station were literally blown to pieces and victims are hard to identify from their remains.
10:49: The head of the Syrian government's delegation to peace talks claims that some of the Brussels attackers had fought in Syria before their return to Belgium. Bashar Ja'afari made the remarks to reporters in Geneva following a meeting with the UN's special envoy to Syria. He declined to elaborate.
10:29: Still no official word on the identity of the suspect arrested in the Anderlecht neighborhood of Brussels, despite domestic media identifying the suspect as fugitive Najim Laachraoui.
But Belgian federal prosecutors have scheduled a press conference for 1 p.m. local time (1200 UTC).
10:25: Maelbeek metro station - the site of Tuesday's second deadly attack - will remain closed for several weeks, Brussels Mayor Yvan Mayeur told radio broadcaster Bel RTL. The mayor said the blast left "many human casualties and caused extensive damage in the station," making it impossible for Brussels Transport to access the site. The attack inside Maelbeek station killed around 20 people.
10:22: The Muslim Executive of Belgium (EMB) has released a statement "strongly condemning" Tuesday's deadly attacks, calling them "acts of extreme cruelty committed against innocent citizens." It reads: "These dramatic events have hit the heart of Europe, and have undermined society's efforts, the efforts of the EMB and Belgium's entire Muslim community to coexist peacefully," EMB President Salah Echallaoui said in a statement. "The EMB, in the name of all Muslim citizens, calls for unity and a common resolve to confront all forms of violence and terrorism."
10:19: Belgian public broadcaster RTBF reports police have arrested an unnamed suspect in the Anderlecht neighborhood of Brussels. Earlier the DH newspaper had reported that fugitive Najim Laachraoui had been arrested in Anderlecht.
10:18: Pope Francis has led a silent prayer for the victims of the Brussels attacks. Addressing thousands gathered in St. Peter's Square in Vatican City, he appealed to "all persons of good will to unite in unananimous condemnation" of the killings.
10:16: Attorneys for alleged Paris attack suspect Salah Abdeslam say a hearing in Brussels has been postponed due to heightened security concerns. Abdeslam is fighting extradition to France.
10:14: Though the threat level remains at level four - the highest on the Belgian scale - Brussels is not under lockdown as it was following the attacks in Paris last November. Schools, administration buildings and the majority of shops are open, and public transport has been mostly restored. The airport will remain closed today, with all flights redirected to Charleroi, Liege, Ostend and elsewhere in Europe.
International and national train service has also been restored, though fewer trains are running. The major train stations in Brussels are open but with increased security - bag checks have caused long delays for passengers. The Schuman train station in the EU district remains closed, as well as a number of smaller stations in the area.
10:13: Belgian newspaper DH reports that fugitive Najim Laachrauoui - the suspected third bomber - has been arrested.
10:11: Scenes from earlier today in Brussels:
10:05: German Foreign Minister Frank-Walter Steinmeier also called for unity during his official visit to Moscow. "It is in our joint interest to act against this threat," Steinmeier said during an appearance with his Russian counterpart.
09:50: Russia has called for Europe to drop its "geopolitical games" and unite behind efforts to fight terrorism. "I really hope that Europeans, in the face of the terrible threat of terrorism that occurred yesterday in Brussels, will put aside their geopolitical games and unite to prevent terrorists from acting on our continent," Foreign Minister Sergey Lavrov was quoted by Russian agencies as telling his German counterpart Frank-Walter Steinmeier who is on an official visit to Moscow.
09:40: A soccer match between the Netherlands and France scheduled for Friday evening in Amsterdam "will take place as scheduled" the Royal Dutch Football Federation said in a statement. But a federation spokesman told Dutch tabloid Algemeen Dagblad: "We are closely following all news and developments."
09:20: Police have released more details on the El Bakraoui brothers' criminal past. 30-year-old Brahim was convicted in October 2010 for wounding a police officer in a shootout following a robbery in Brussels. He was sentenced to nine years in prison. In 2011, 27-year-old Khalid was sentenced to five years in prison for a car jacking. Neither brother had been suspected of links to religious extremists, police said.
09:18: The DH newspaper in Brussels has released photos of suspect 25-year-old Najim Laachrauoui. He was last seen at the airport with the El Bakraoui brothers who police say detonated suicide vests at the international airport. A third vest - presumably carried by Laachrauoi - was later found undetonated inside the terminal.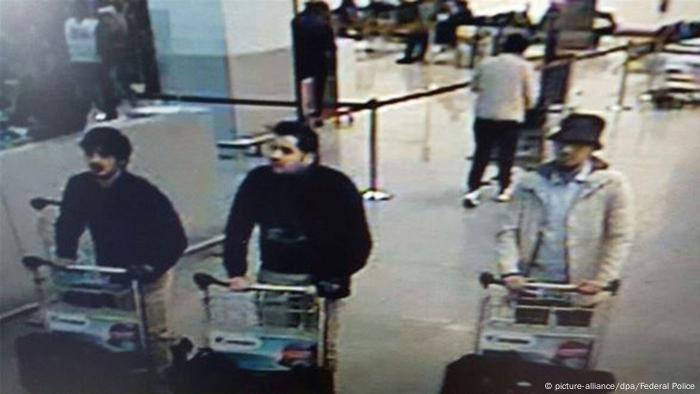 CCTV image. Brahim el-Bakraoui is believed to be in the middle and Najim Laachraoui on the right
08:56: The first international train has arrived in Brussels a day after rail service was suspended following the bombing attacks. A high-speed Thalys train arrived from Amsterdam at 6:00 UTC. International service to European capitals including the Eurostar line to London was halted following the attacks. Belgium's rail operator says it intends to now resume normal services.
08:54: Brussels will hold a minute of silence at 12:00 p.m. The proclamation came from Rudi Vervoort, head of the region. He said: "I invite the people to observe a minute of silence at midday in tribute to the victims of the 22 March." Belgium's King Philippe and Prime Minister Charles Michel would observe the silence near the site of the attack at the Maalbeek metro station.
08:41: In the same interview, the interior minister said that German authorities "have no indications of a security threat" against Saturday's Germany-England soccer match in Berlin.
08:40: German Interior Minister Thomas de Maiziere says he wants security services to share information more easily. The minister told RTL television that the Brussels attacks "should make us put the data protection arguments last."
08:02: France's prime minister says there is an "urgent" need to tighten border controls within the European Union. Manuel Valls told French radio he also advocates a Europe-wide tacking system of airline passengers despite controversy over a central database for personal data.
07:59: The Belgian newspaper DH says a third man - identified as 25-year-old Najim Laachraoui - is still at large. Police had been searching for him since Monday.
07:56: RTBF, quoting unnamed police sources, says the brothers had criminal records but had never been suspected in terrorism cases. Khalid, using a false name, had rented the flat in the Forest borough of the Belgian capital where police killed a gunman in a raid last week, RTBF said.
Investigators at the flat recovered a black flag carried by the self-styled "Islamic State" group, an assault rifle, detonators bearing a fingerprint of the Paris attacks' prime suspect Salah Abdeslam, who was arrested three days later.
jar/jil (Reuters, dpa)