Efforts by Britain, France and the Arab League, acting through Lebanon, to impose a no-fly zone have met with stiff resistance at the United Nations as Moammar Gadhafi's forces pushed eastwards toward the Libyan rebel stronghold of Benghazi late Tuesday.
A draft resolution that diplomats said would ban "all flights" in Libyan airspace and allow "all necessary measures to enforce compliance" was distributed. China and Russia were believed to have been behind the opposition movement, while Germany, India and the United States were said to have doubts about the plan.
Foreign ministers from the Group of Eight (G8) economies had earlier sidestepped the prospect of a no-fly zone to buttress the anti-Gadhafi forces.
In a final communique, the ministers made no mention of plans for a no-fly zone, agreeing instead that the UN Security Council should put more pressure on the Gadhafi regime "including through economic sanctions."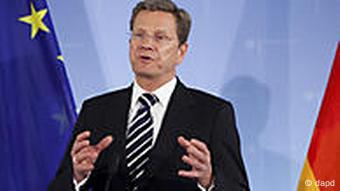 Germany is reluctant to back military action
"Military intervention is not the solution. From our point of view it is very difficult and dangerous," German Foreign Minister Guido Westerwelle told reporters. Any involvement, he said, "would lead to a weakening of the democratic movement in North Africa. We want the opposite: a strengthening of the democratic movement."
The proposed no-fly zone would ground Libyan aircraft to protect its people from assault by forces loyal to Gadhafi. France had even talked of targeted air strikes.
French Foreign Minister Alain Juppe said foreign ministers from the G8 countries agreed that the UN Security Council was the place to pressure the Gadhafi regime, and that Arab nations should be on board.
He said that such pressure could include "reinforcing sanctions, decreeing a maritime embargo and foreseeing a no-fly zone - even if that's not a panacea."
Italian Foreign Minister Franco Frattini told reporters that along with Germany, Russia had argued that a no-fly zone would not be effective and could be counterproductive.
Gadhafi praises Germany, rips West
Germany's hands-off approach clearly pleased Gadhafi, who praised its stance in an interview on Tuesday with German television station RTL.
"Germans have taken a good stance on our situation, unlike many other Western countries," Gadhafi told RTL, adding "forget the West." He said that in the future, only Russia, India and China would get Libyan oil or other Libyan business.
But because of its opposition to the no-fly zone, Germany could also possibly get oil, he said, adding: "Germany … not France … deserves a permanent seat on the UN Security Council."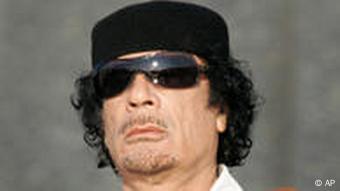 Gadhafi says Sarkozy is 'mentally ill'
During the interview, Gadhafi denied that demonstrations had been taking place in Libya, calling the recent upheaval around the country a "minor incident."
At one point, Gadhafi asked reporter Antonia Rados what he had done to "disappoint" the EU and US, to earn such harsh criticism from them. When the reporter replied by mentioning deadly attacks on peaceful demonstrators, Gadhafi said: "Those are lies."
Gadhafi also spared no criticism of French President Nicolas Sarkozy, who has strongly backed the no-fly-zone effort.
"He's my friend, but I think he has gone nuts," Gadhafi told RTL. "He is sick. That's what the people who work with him say - that he has a mental illness."
Rebels losing ground
Meanwhile, Al Jazeera television reported that on the ground in Libya, government forces were continuing their advance toward rebel-held positions.
Forces loyal to Gadhafi launched a number of air strikes on Tuesday on the eastern Libyan town of Ajdabiyah, according to Al Jazeera. At least one person was reported killed and several wounded.
Ajdabiyah was also subject to air strikes on Monday, the latest town to be targeted as government forces advanced eastwards toward the rebel-held stronghold of Benghazi.
Authors: Darren Mara, Rob Mudge, Jennifer Abramsohn (dpa, Reuters, AP)
Editor: Nancy Isenson