Britain's defense minister on Tuesday said that the government would not hesitate to use drones to prevent attacks against Britain.
"We wouldn't hesitate to do it again. If we know there's an armed attack likely, if we know who's involved in it, we have to do something about it," Defense Secretary Michael Fallon told BBC Radio 4 on Tuesday.
His remarks came a day after Prime Minister David Cameron revealed in Parliament that a missile fired from a Royal Air Force drone last month had killed three militants in Syria.
Two British men in their 20s - Ruhul Amin and Reyaad Khan - were among the dead in the August 21 attack on a vehicle in Raqqa. They were suspected sympathizers for the self-styled "Islamic State." Khan left home for Syria in 2013.
"There are other terrorists involved in other plots that may come to fruition over the next few weeks and months, and we wouldn't hesitate to take similar action again," Hammond said.
Under questioning by the opposition Labour Party's interim leader Harriet Harmon, the prime minister admitted that the attack marked the first instance in modern times that a British asset has been used to conduct a strike in a country where Britain was not involved in a war.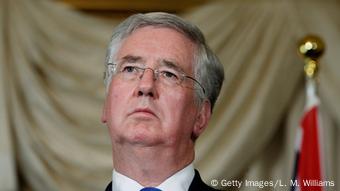 Fallon approved the strike in Cameron's stead, as the premier was away on a visit
The government is expected to ask parliament to approve the extension of British air operations into Syria in coming weeks; currently, the UK is only taking part in airstrikes against "Islamic State" targets on Iraqi soil.
Drone attacks criticized
But some commentators have questioned the legality of targeted drone strikes to assassinate suspected militants like Khan.
"The point is not so much that they were British but that he was targeted in an area that the UK does not currently regard, legally, as an operational theater of war for UK forces," said Professor Michael Clarke, director general of the London-based Royal United Services Institute.
"Not least, the prime minister's announcement will be regarded as jumping the parliamentary gun in announcing the fact that last week UK air power was used explicitly to bomb something on the ground inside Syria," Clarke added.
Cameron has been criticized for refusing to divulge the government's legal rationale for the drone strike on August 21. Daily newspaper "The Independent" wrote that Downing Street's decision not to publish full details of legal advice taken before the drone strike was "echoing the controversy over the legal justification for the 2003 invasion of Iraq given by Tony Blair's government."
The London-based rights group CAGE, which is "campaigning against the War on Terror," condemned the attack and said it set "a dangerous international precedent."
"The UK government has not released a legal justification for the killing of two British nationals in Syria," said spokesman Ibrahim Mohamoud.
jar/msh (dpa, AP, Reuters)