DW: Mr. Bregovic, you say you are from the Balkans, but don't call yourself a Serb or Bosnian.
Bregovic: It's because I'm not enough Serb to be a Serb, not enough Croat to be a Croat, not enough Bosnian to be a Bosnian guy. I'm from a very mixed family, but it's more like my emotional choice than ethnic. You know, when you loose your homeland you understand that your homeland is not any geographical or political territory; it is only an emotional territory. So my emotional territory is this territory there, it doesn't matter if I have to show my passport few times.
You work with musicians from the Roma and Sinti community. Why is that?
If you're a musician in that part of the world you are doing a gipsy job, that's the way it is. I remember my father was a colonel in the Yugoslavian army and when I brought home my first money from a gig, he told me, "You are not going to do this gipsy job!" But I consider myself one of them.
So, what is a "gipsy" for you?
It has the same metaphorical value for me as a cowboy. It's somebody who doesn't have the same gravitation with the others. And then you know there are quite lot of modern things that are very "gipsy." Thinking of today, not of yesterday or of tomorrow - that's a gipsy idea. Then also this idea of going away [on vacation] in July or August. Suddenly everyone becomes gipsy for a month. So in every one of us there is a gipsy that is waiting to wake up sometimes.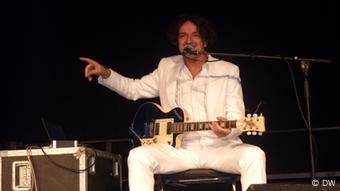 Goran Bregovic's latest album is called "Champagne for Gypsies"


The situation of the so-called gypsies - the Roma and Sinti - is very problematic, especially in the Balkans and also in the new EU countries like Romania and Bulgaria.
Even in France and Italy.
Exactly. You work with them and consider yourself one of them. What do you do to support the Roma and Sinti community?
We had a campaign in Serbia recently to convince Roma to go to vote. This was an important and big campaign, because if they don't want to vote they are not going to have a representative. My last [album] is actually a reaction to that situation. It's a toast to the talent of gypsies who have left strong traces in our culture. I think we are not far away from moment when we will say: "Gypsies, you left traces in this culture." They say even Elvis Presley had gypsy blood, Charlie Chaplin was gypsy, Mother Teresa was gypsy, too.
I just wanted to remind us that gypsies are not something to throw out [of the country] because you call them "gypsy." I invited on the record some of the gypsies that I think left some traces in popular culture and some young ones that I think still will - so from the generation of Gipsy Kings to Gogol Bordello. My record is one that just wants to toast to this talent that inspires so many composers of music, including me, but even the big composers who dedicate their work to the talent of gypsies.
You have a huge fan community all over the world and you've worked with many artists from all over the world. Have you had any confrontations with people from Western Europe? Could you inspire people with your music to maybe change their mentality towards the Roma communities?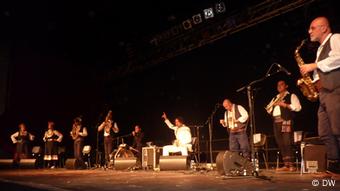 Bregovic often performs with his Wedding and Funeral Orchestra
The racists will never tell you openly that they are. I never had serious discussions about Roma with anybody. But of course I see what is happening in Europe. I'm especially surprised by France. You know, I am from Sarajevo and in 1991 I had to leave home because of the war. So my natural choice was Paris. France has a history of receiving exiled people, artists from Russia, Scandinavia, painters from Spain. This is such a long history of people looking for refuge in such a civilized country that has always been guiding European ideas. Now they throw out gypsies. Or Italy, with such a long history of poverty, so they know how it is to be poor. Still they throw out Roma. I'm from the communist time and western ideas were and are always guiding ideas for me, so I am quite disappointed.
Would you play in France or Italy right now?
It serves nothing for me not to play. It is much better if I can mobilize attention with this record, because there are some people that you know on the record: Gipsy Kings, Gogol Bordello, and Florin Salan are great musicians. "Those are the gypsies that you throw out" - that is my message.
In his music, Goran Bregovic mixes gypsy sounds with traditional folk melodies from various regions in the Balkans. Born in Sarajevo in 1950, he now lives in Belgrade and Paris and continues to perform around the world with his Wedding and Funeral Orchestra.