Brazilian unions called the first nationwide strike in 21 years on Friday to protest against pension and labor reforms being pushed by the conservative government of President Michel Temer.
"We are going to have the biggest general strike in the history of Brazil," said Vagner Freitas, the president of the Central Workers Union (CUT).
Many unions backed by various social movements are anticipated to take part in the strike. Road, rail and air transport have all been affected, as well as factories, schools and businesses.
Sao Paulo, Brazil's most populous city and financial center, was the worst affected by early Friday. All public transport networks were closed, bringing the city to a standstill. Meanwhile, police resorted to firing tear gas at protestors who had blocked off a highway.
Similar scenes were reported in Rio de Janeiro, where protestors lit a fire on a major bridge, disrupting commuter traffic. Police also fired tear gas at a small group of protestors outside the main bus station. While many banks in Rio were closed, the city appeared to be less affected as cafes, restaurants and shops operating as normal.
Transport services were also completely shut down in the capital Brasilia, Belo Horizonte and Curitiba.
Brazil's National Civil Aviation Agency reported that "operations at the airports are functioning normally," although there were multiple reports of delayed and canceled flights.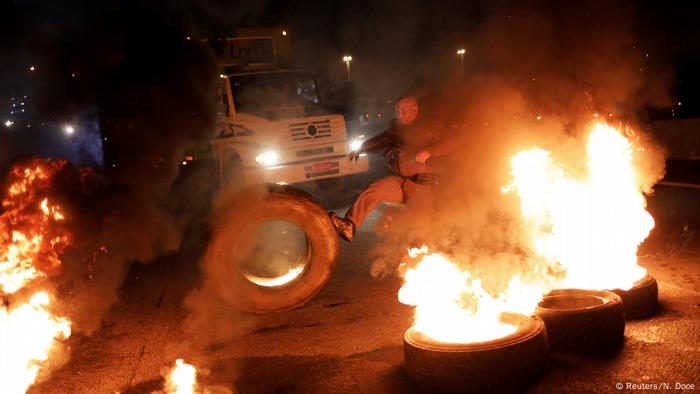 Temer's dose of fiscal discipline
The strike comes two days after the lower house of congress passed reforms to reduce labor costs and erode the power of unions. The labor reforms must now be passed by the Senate.
Since coming to power last year, Temer has advanced a tough austerity and reform program in a bid to kickstart an economy battered by a recession.
But his term has been marred by demonstrations and ongoing corruption scandals since he took power from former leftist President Dilma Rousseff after she was removed for breaking budget rules in what her supporters dubbed a "coup."
Rousseff's Workers Party has its roots in labor and social movements, which have rallied against Temer.
Adding to Temer's troubles, nearly a third of his cabinet and congressional allies are under investigation as part of a widening corruption scandal that has revealed eye-popping levels of graft at the top of government.
Ongoing recession and rising unemployment
Government figures released Friday showed that Brazil's unemployment rate covering the first quarter of 2017 was 13.7 percent, up from 13.2 percent in the last quarter.
Unemployment in Brazil has been rising steadily for the past two years, ever since the economy was hit by recession in early 2015. More than 14 million are currently out of work, government statistics show.
The economy shrank by 3.8 percent in 2015 and is expected to have contracted by a further 3.5 percent in 2016, marking the country's most painful recession in more than a century. Government and central bank chiefs project a modest return to growth this year, although that largely hinges on whether Temer will succeed in passing proposed austerity reforms.
cw,dm/sms (dpa, Reuters)