Bosnian Croat ex-General Slobodan Praljak died Wednesday evening after drinking poison at a UN court hearing in The Hague.
"One of the six defendants ... passed away today in the HMC hospital in The Hague," said court spokesman Nenad Golcevski.
Earlier, judges part of the UN International Criminal Tribunal for the former Yugoslavia (ICTY) had rejected the 72-year-old's appeal against his 20-year prison sentence for war crimes and crimes against humanity during the 1992-1995 Bosnian war.
Upon hearing the verdict, Praljak yelled: "Judges, Slobodan Praljak is not a war criminal. I reject the verdict with contempt." He then drank from a small glass bottle and told the courtroom: "What I drank was poison."
The presiding judge called for medical assistance and ordered the session to be closed to the public.
Croatian Prime Minister Andrej Plenkovic has described the verdict as "unjust" and offered his condolences to Praljak's family.
Read more: Hague judges jail Bosnian Croat leaders, condemn Tudjman
Praljak blamed for destruction of Mostar bridge
Before the interruption, the court had also confirmed lengthy prison terms for Jadranko Prlić and Bruno Stojić. The judges reaffirmed lengthy prison sentences for the remaining three defendants — Milivoj Petković, Valentin Čorić and Berislav Pušić — after the session was resumed.
In its 2013 verdict, the court had found Praljak guilty of multiple crimes, inclduing ordering the destruction of the renowned 16th-century Ottoman bridge in Mostar, which was rebuilt in 2004.
The poisoning prompted Croatia's right-wing president, Kolinda Grabar Kitarovic, to cut short her visit to Iceland and return to Zagreb, according to local media outlets.
Read more: ICTY Hague Tribunal ends prosecutions of Yugoslav war crimes but legacy lingers
Last-minute drama
The Wednesday ruling was to be the last in the 24-year history of the UN tribunal. The court has indicted 161 suspects, 90 of whom were convicted of committing war crimes in the former Yugoslavia, including Kosovo, Bosnia and Croatia.
Last week, the UN judges passed a life sentence against ex-Bosnian Serb General Ratko Mladic, also known as "the Butcher of Bosnia" over his role in the genocide against Muslim Bosniaks.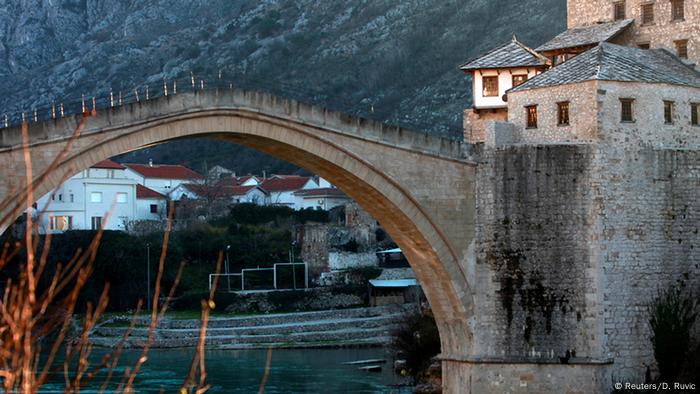 The bridge in the Bosnian city of Mostar war rebuilt using the original stones
amp, dj/msh (AP, AFP, Reuters, dpa)