Between the anti-RB Leipzig march that wound its way through Dortmund's streets and the banners unfurled in the Südtribüne as the players emerged, there can have been few observers of German football unaware how different Borussia Dortmund's fans think their club and the Red Bulls from the east are.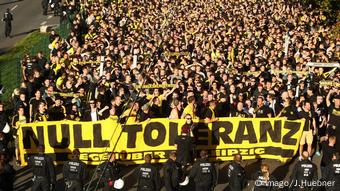 Dortmund's protests before kick off remained peaceful, amid a heavy police presence
But at the end of a game that seemed to have as much incident as some entire matchday weekends, it was hard not to see a raft of on-pitch similarities.
Even before the pre-match welcoming parties, which never crossed the line as they did in this fixture last season, the visitors would have known they were in for a rough ride. When the team sheets showed RB were without the unfit Timo Werner, vice captain Willi Orban and Emil Forsberg, who were all on the bench, it seemed to have got a little rougher.
Facing a crescendo of boos and whistles every time they touched the ball in the opening minutes, Leipzig made their lives even harder just 4 minutes in, when a lapse in concentration from Stefan Ilskander allowed Pierre-Emerick Aubameyang to turn the jeers into cheers.
The right response
But in a telling demonstration of the mental strength they'll need to sustain a place at the top table of European football, the men in white reacted with muscle, heart and no little skill. Suddenly they were first to loose balls, exploiting Dortmund's high defensive line, pressing high and forcing mistakes from a rattled home backline — anything Dortmund could do, Leipzig thought they could do better.
"Dortmund are a good team on the offensive," goalkeeper Leipzig goalkeeper Peter Gulacsi told DW after the game. "But I think we had a lot of chances today, a lot more than last year (when they lost 1-0 in the same fixture) and we can also play very well on the counter. The quality in our squad is better than last year."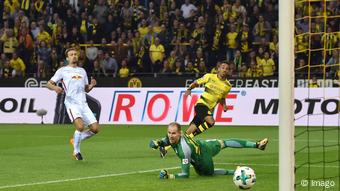 Both keepers were too busy on the night, but Gulasci's side came out on top
Eventually the pressure — and that increased quality — told. First Marcel Sabitzer nodded in unmarked in the six yard box, then Yussuf Poulsen tapped in after some scintillating wing play from Bruma, a summer signing who showed flashes of brilliance on Saturday.
Second half drama
Things quickly got worse for Dortmund after the break. Sokratis, who along with Omer Toprak had struggled with the pace and relentless movement of Jean-Kevin Augustin all game, pulled the French striker down and trudged off as Augustin secured a two goal cushion for his team.
But like their opponents, Leipzig seemed incapabale of keeping either a lead or their composure. Ilskander flew in to a brainless tackle on Mario Götze and then another just two minutes later to give Dortmund a glimmer of hope. The space behind the visitor's defense, rich pickings for Aubameyang all day, was exploited by the Gabonese frontman again — another penalty, another goal.
"We have tried everything until the very end. It was a strange game," said Dortmund's Julian Weigl afterwards.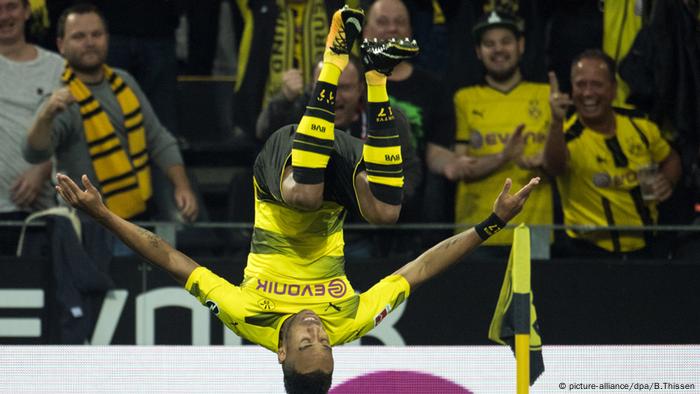 Even in defeat, Aubameyang netted two
Reckless almost by design
It was. But it's difficult to escape the conclusion that both sides like it this way, despite Peter Bosz' admission after the game that his side "defended badly."
Both try to push up and hold an unusually high line. It allows them to split opposition defenses more easily with one forward pass, particularly after a turnover of possession, but also leaves them vulnerable to pacy forwards on the break themselves — Aubameyang and Augustin fit that bill.
In truth, this game could easily have finished 3-3, Andriy Yarmelenko missed a golden chance at the death. It could also have been 4-3 or 3-4, or just about any other score.
While it made for an intense and often brilliant spectacle, it's rare to see such cavalier approaches win out over a season — Bayern Munich conceded just 22 last season, 17 the season before that.
Both Dortmund and Leipzig have designs on Bayern this year, both have some exciting new attacking talent that's been rapidly integrated and both have some real defensive work to do if they are serious about challenging. In some ways, perhaps they aren't so different after all.